Driving without car insurance in Alabama is considered to be a breach of law and can lead to fines up to $1,000 with possibility of getting the driving license as well as the car registration suspended for important number of days. It is such an inconvenience, for sure, no one will like to face in life. From all indication, the average estimate, cost for full coverage of car insurance in Alabama is $1,475 per year, exactly $122 per month for an adult driver, that is approximately 10% less than the normal average cost which is nearly $1,700 or a little more. There is even a possibility to pay less, that depends on company rate and does need important research to get the better rate.
1.Geico
Geico has always been one of the best car insurance in the US, for its great reputation and efficiency in dealing with people claims; so is the case here, it is considered to be one of the most affordable car insurance in Alabama. It does offer interesting rate for good drivers, its rate being the lowest in the list with a huge difference with the entire state average. Drivers with speeding ticket or with poor credit are also welcome to benefit from the lower average charge provided by Geico car insurance in Alabama. It is also well appreciated because of its minimum coverage cost which is the lowest. But the inconvenient is that it doesn't provide discount for full premium payment which is the contrary with other competitors.
Learn more: https://www.geico.com/information/states/al/
2.Safeway Insurance
It has been rarely seen in the list of good insurance company, but remains one of the best with representation in about 10 to 13 States in US including Alabama, Georgia, Tennessee, Mississippi and others. It has built a strong reputation in these states through its strong financial stability and above all good customer satisfaction. It is not that much represented online but, the few information gathered do show that it is a good choice for drivers with poor credit, providing them with an average which is far better than the State rate. Other good beneficial are drivers with DUI who do obtain an average cost which is about $300 lesser than the sate value for the same, a good opportunity to increase personal savings.
Learn more: https://www.safewayinsurance.com/
3.Nationwide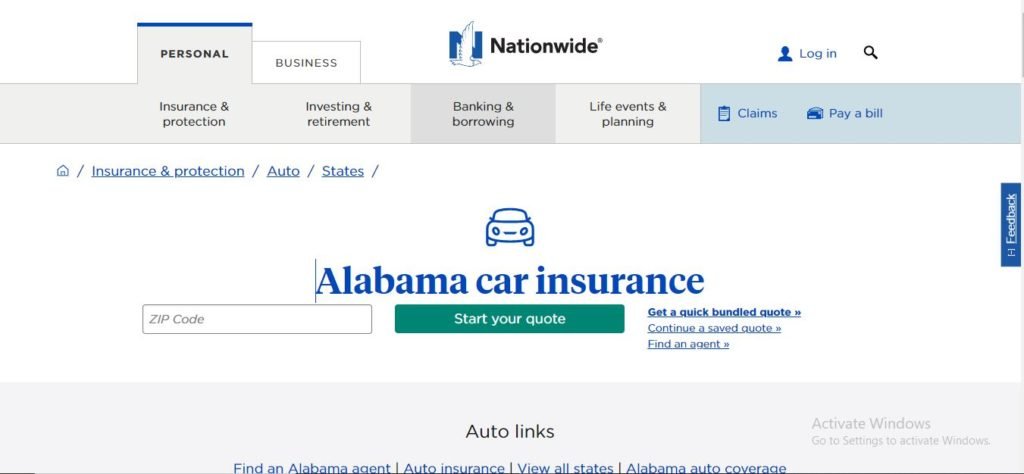 It stands as one of the best car insurance in Alabama; first of all, it has the third least expensive average premium with a difference of nearly 25% with the most expensive. Its minimum coverage is also one of the lowest in this State. Nationwide provides good rate for drivers who do not drive regularly, but there is no possible discount for the same. It is advised for senior drivers, through its most affordable annual rate which is the smaller with a difference of almost $450 with the state rate for the same. Its cost for parents who wish to add their kids in their insurance is not that bad, especially with an increased which is also very low compare to the state normal increased which is almost 125%.
Learn more: https://www.nationwide.com/personal/insurance/auto/state/alabama/
4.Travelers
It is an appealing insurance company, with strong financial basis as well, provided wide range of rates to support customers at all cost. Travelers car insurance in Alabama provides one of the lowest rate for good drivers with good saving amount. But its most appealing rate is for drivers with prior accident leading to injury; they have to pay quiet less charge with an important difference of almost 30% compare to state rate which usually include an increase of about $600 for people in this case. Driver with DUI could also gain from its low estimate annual rate which is not far from the lowest amount and does offer a huge contrast with the State cost for the same. Some of its important discounts include; Driver training discount, hybrid/Electric Auto discount, multi-policy discount and student Away discount.
Learn more: https://www.travelers.com/go/pi/dtc/brand.html?sponsor=beta72&prd=0M4803&tfn=8662367094&type=brand&obj=acqn&mm=web&mmt=ps&div=pi&mpg
5.AAA (American Automobile Association, Inc.)
AAA has been operating for quite a decade now, with an overall idea of supporting all members in need of any sort of assistance for insurance coverage. Some of its important coverages include new car replacement payment through a policy allowing extension of collision coverage. AAA car insurance in Alabama provides coverage for totaled car through its gap coverage option. It enhances repair of exterior parts with possibility of total replacement by original manufacturer, never the second part. It provides rideshare insurance for people transportation network company. Other advantages offer by AAA are roadside assistance, good customer satisfaction, excellent financial strength, but its only limited to members.
Learn more: https://www.aaa.com/International/
Read Also: Most Affordable Car Insurance in Arkansas 2022, https://carsnjeeps.com/auto-insurance/best-car-insurance-in-north-carolina/, Best quotes for Car Insurance in New York 2022, The cheapest auto insurance in Georgia 2022