The average cost of car insurance in North Carolina is $1,390 per year for full coverage, that is approximately $116 average monthly. It is one of the cheapest in the US because of being lower than the National annual coverage. The minimum annual coverage is about $430, that is $36 per month. This supports the idea that car insurance is not very expensive compare to other States. To assure the payment of this car insurance, citizen usually contact various companies dealing with auto insurance. The charge proposed by each company depends on some aspects among which age, gender, driving records and more. To find a better company with low rate is not an easy task, the following review does propose some with their benefits.
1.North Carolina Farm Bureau
It was initially established to help farmers, but over years, it has become one of the most popular car insurance in North Carolina. It provides customized coverage through numbers of agent around the State. It has received so far a good rating score for customer satisfaction and willingness to provide efficient needs for all. Some of its relevant additional coverage include rental car reimbursement and rideshare insurance which is for some category of drivers. It provides the second lowest annual rate for driver with accident record resulting in injury, its rate is the second most affordable with an important gap with the State rate. Farm bureau is also beneficial for driver with DUI who do have to pay only for little amount.
Learn more: https://www.ncfbins.com/
2.Nationwide
It is among the five most reputable insurance companies in US. Its solid financial extension is one of its great add-on feature and does combined this with quality services and affordable rate. Nationwide car insurance in North Carolina is good for customers who are shopping around their budget, it proposed the cheapest annual premium with about 25% difference with the state rate. It also provides an important discount that is nearly 10% on premiums for accident-free driving. Nationwide might also be considered for young drivers because of its lower rate which might not be the cheapest but does have a great contrast with State cost for the same. It can be considered as well for adding teen in insurance, because of the affordable cost for the same.
Learn more: https://www.nationwide.com/personal/insurance/auto/state/north-carolina/
3.Erie
It is one of the cheapest car insurance in North Carolina offering good annual rate as well and customized rate for some categories. Its financial stability is also a good advantage supporting its ranking as the best overall affordable policy given an annual estimate rate of about $715. Erie offers good rate for drivers with speeding ticket, or with prior accident leading to injury. It offered the lowest rate in these two categories without any extra charges, and the rate is far smaller than the State value. If you are parent looking for a good car insurance where you can add your teen driver, Erie is also a good choice for that, because of proposing the lowest increase percentage, hence its cost rate for this is the smallest.
Learn more: https://allchoiceinsurance.com/carriers/erie-insurance/
4.State Farm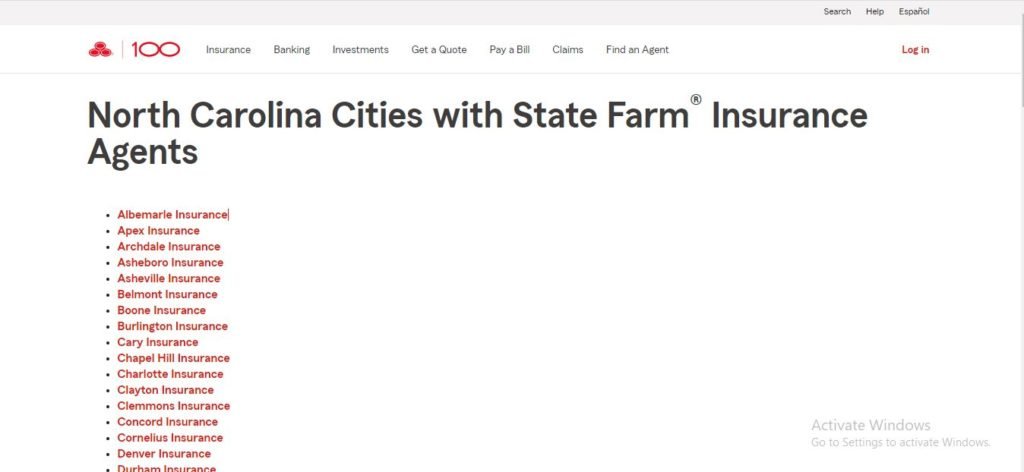 It is the most reputable with good financial stability, quite popular and above all, always stand with good rating. State Farm car insurance in North Carolina, offers great options with families, supplying incredible annual rate specifically for students. It provides wide range of discount for teen and young drivers, some of which are the discount on premium for completion of new driver safety course or bundling insurance discounts. It provides standard coverage which can help shop around budget and also interesting protection like gap insurance. One of its interesting aspect is the affordable annual coverage provided for good drivers and drivers with speeding tickets, who do pay quiet less than the normal State rate.
Learn more: https://www.statefarm.com/local/north-carolina
5.Geico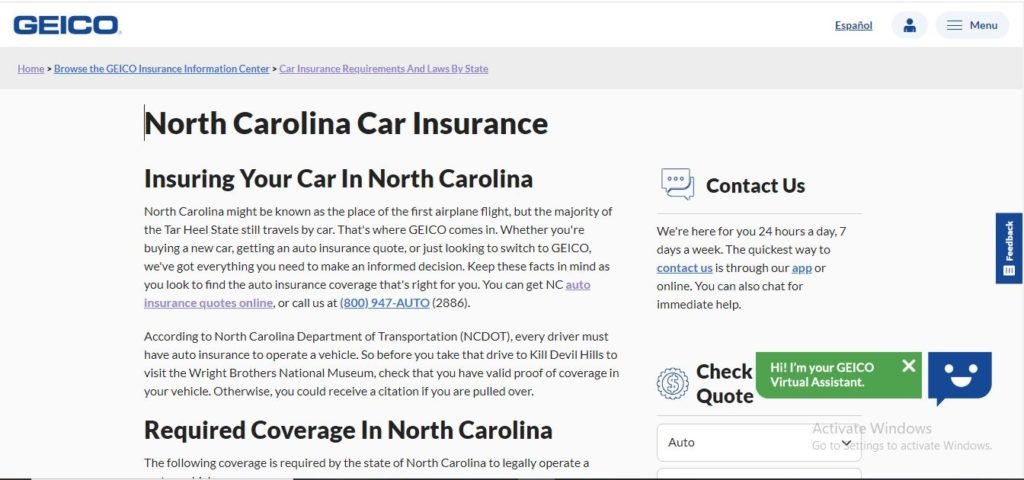 Geico is another giant in the insurance domain, it is also a large company with good features. Geico car insurance in North Carolina has got a nice score for J.D. Power for customer service. It provides customers with interesting quotes including one of the lowest rate for the average minimum coverage premium which is quite affordable if not the lowest of the group listed. It is an example for client shopping around budget as well, provided that its rates are usually stable and affordable at all. It is good for drivers with good records, offering the lowest estimate rate for this category with important saving. Drivers with poor credit could also gain from its affordable average annual rate which is 20% less than statewide rate.
Learn more: https://www.geico.com/information/states/nc/
Read Also: Best quotes for Car Insurance in New York 2022, Cheapest Car Insurance in Iowa 2022, Best cheap Car insurance in Illinois for 2022, Best and cheapest Car insurance in Wisconsin for 2022