Being a state where cars are constantly produced, Wisconsin is a strategized area for insurance dealers. Car insurance in Wisconsin is an important market with enough to provide for every single company abiding by the rule. It is compulsory for all Wisconsin citizen owning a car to pay minimums liability including $25,000 yearly for bodily injury liability per person, $50,000 yearly for bodily injury liability for more than one person, and $10,000 per year for property damage liability per accident. The average cost of car insurance in Wisconsin is estimated at $330 per month for minimum coverage and for full coverage is $1,190 which is considerably lower than the normal national coverage, hence is one of the cheapest Sate for insurance premiums.
1.Erie Insurance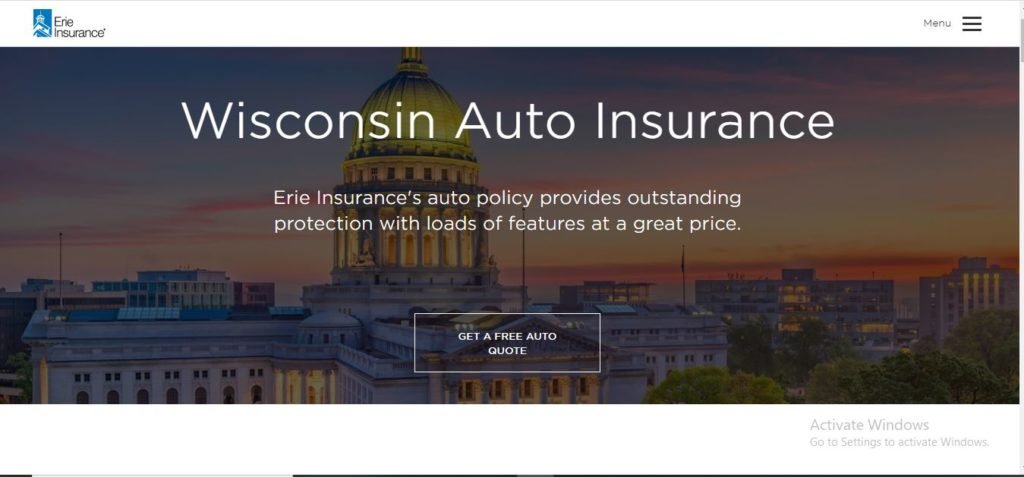 Erie Insurance has been dealing with car insurance in Wisconsin for quite long time now, its wide range of auto policy features and quick response to customer needs have contributed a lot in building its reputation. Erie stands at the top with other good companies having a good score for customer satisfaction that is 5 out 5, and a good financial stability. It has an overall best for affordable minimum coverage which is nearly the same like the statewide. It offers young drivers the most affordable policy for minimum coverage, that is a monthly coverage estimated at $215 which is the least in the list, hence, lower than the statewide rate for this group of people. It also provides better policy for car replacement.
Learn more: https://www.erieinsurance.com/auto-insurance/wisconsin
2.Secura
Known for its quality support and family quality type, Secura car insurance in Wisconsin is another best choice for its affordable costs. It stands as the second good choice for Young drivers through its low monthly liability coverage as well as full coverage which are lower than Wisconsin state usual rate. Secura also stands strongly for teen drivers with prior accident case offering a monthly low cost. But, the most important reason for its listing amongst the cheapest car insurance in Wisconsin is probably its smaller increase percentage for adding teen in insurance policy. In fact, Secura provides its customer demanding for this option, an average percentage increase of less than 50% compare to the state percentage increase of more than 100% for the same.
Learn more: https://www.secura.net/contact-us/
3.Geico
It provides low rates in different category of car insurance in Wisconsin. Geico provides the lowest average annual rate for customer choosing to pay for minimum liability; a rate which is the most affordable of the list providing a difference of almost $400 with the statewide rate. Drivers with poor credit are well considered with Geico; it has an estimate annual average rate of $800 which is the least expensive of the whole list, hence being the overall best choice. Good drivers can expect to get lower rate as well with Geico, its estimate rate is far smaller than the statewide rate, hence offering an important overall discount. Its high quality service rate with good score as presented by different experts is another supporting fact of its good service in Wisconsin.
Learn more: https://www.geico.com/information/states/wi/
4.Auto-Owners
It is another good company recognized for its good services. Auto-Owners car insurance in Wisconsin score 890 out 1,000 form J.D. Power for customer satisfaction, a reason enough to be listed among well rated car insurance companies. It provides drivers who caused accident with injury an annual coverage with almost 20% smaller than the normal state average. It is the second advisable choice for this category, coming after State farm. It does offer a low average annual cost for young drivers with ticket an important difference with the statewide and also an advantage over other competitive car insurance for the same. Some of its benefits include possibility of obtaining low coverage when adding new vehicle to policy.
Learn more: https://www.auto-owners.com/
5.State Farm
It is usually very recommended for its quality service, financial stability and availability in almost all the States. State Farm Car Insurance in Wisconsin comes as a good car insurance group offering an affordable minimum coverage just like Geico but the difference is clearly shown with other factors. For example, it is advantageous for drivers with speeding ticket, as it provides the least expensive cost rate. Driver with an at-fault accident will pay lower cost with State farm as well, especially if they have never caused any such case before. The least but not the last is the case of drivers with DUI, state Farm car insurance in Wisconsin provides this category with the most affordable average cost.
Learn more: https://www.statefarm.com/local/wisconsin
Read Also: Best Car Insurance in Florida for 2022, 05 best inexpensive Car Insurance in Missouri, 06 Most Affordable Car Insurance in Montana, Best Car Insurance in Oklahoma for 2022