The average cost for car insurance in Montana is $63 greater than the national cost per year for full coverage. However, the normal cost that should be paid by Montana residents is area dependent, and also take into consideration various known criteria such as credit history, driving records, age and others. Car insurance in Montana is offered by a range of insurance companies, the choice of better one depends on client's convenience and payment capacity. Still, all car owners in Montana are obliged by law to pay 25/50/20, that is the minimum levels of insurance corresponding to $25,000 per person for liability coverage for bodily injury, $50,000 per accident for bodily injury, and $20,000 per accident for property damage. Residents are free to choose from the large range of car insurance companies comprising, QBE, State Farm, Nationwide and many more.
1.USAA
USAA car insurance in Montana like in any other states is predominantly good for military, veterans and their family relatives. It is the cheapest car insurance in Montana offering discount on almost all the known criteria usually considered when choosing a car insurance. With a 4.8 out 5-star rate, it has an appealing lowest average rate for full coverage for car insurance in Montana that is approximately $788. On the same hand, the rate for teen drivers, adults, senior drivers or driver with ticket remains the most affordable compare to other close competitors. It is indeed the cheapest car insurance in Montana, the discounts are applicable for maximum aspects including multiple policies, multiple vehicles, military, low annual mileage and others.
Source: https://www.usaa.com/inet/wc/montana-car-insurance?akredirect=true
2.State Farm
Absolutely present everywhere all over US, State Farm insurance in Montana is usually at the top of all if not most of the cheapest car insurance in almost every city. The reason being its convenient rating which usually satisfy clients. It offers an interesting average for annual rate, hence following USAA with an advantage that, it can be applied for every individual without exemption. Moreover, considering factors like age, State Farm offers a lowest monthly coverage for teens, adults and senior drivers. Additionally, it charges only $175 monthly rate for person driving under influence, that is quite surprising. But the limit comes with drivers with poor credit who are charged a high monthly rate compare to other car insurance competitors.
Source: https://www.statefarm.com/insurance/auto/discounts/montana
3.Geico
It is not that surprising to have Geico among the least expensive car insurance in Montana. Well, it is proven with 4 out 5-star rate as one of the car insurance companies up to standard in all aspects. The advantage with Geico Insurance is its attractive monthly rate for drivers with poor credit. In fact, it offers a monthly rate of about $155 for this category, an amount which is quite less compare to that of State farm which is $190 in the same aspect. Geico does great as well in term of quality services and financial strength. It was rate A++ by MarketWatch editor in term of best financial strength, and at the 5th position of car insurance companies with customer satisfaction by J.D. power. These aspects and more suggest somehow that Geico is another choice to be considered when looking for cheap car insurance group.
Source: https://www.geico.com/information/states/mt/
4.Liberty Mutual
With an average customer rating of 4 out of 5-star from more than three thousand reviews, Liberty Mutual car insurance in Montana gain an acceptable position in the group of affordable car insurance companies. It's a company made for people through its customized quotes that fit customer needs at all times. It is justifiable also by its important market share in Montana, that is nearly 11.33%, giving a third position followed by USAA which is considered to offer various discounts. It offers a saving of up to $948 on auto and home when both are in bundle insurance policies. Another advantage is the accident forgiveness discount made for at least five years trusted customers.
Source: https://www.libertymutual.com/vehicle/auto-insurance/state/montana
5.Nationwide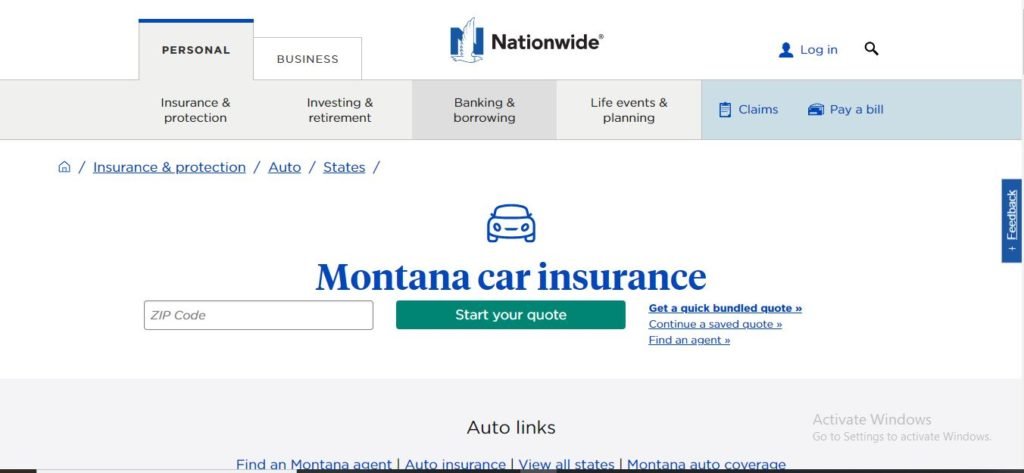 Usually seen as well amongst affordable car insurance companies, Nationwide another good car insurance in Montana with appreciable notes. It appears with a lowest average annual rate for driver after DUI. That is about $824 less compare to Geico which has a higher rate for this criteria. Moreover, Nationwide is considered to best option for low mileage drivers as its rate for this criterion is the most convenient. It also offers a 10% discount for drivers with safe driving records.
Source: https://www.nationwide.com/personal/insurance/auto/state/montana/
6.The Hartford
The Hartford car insurance in Montana is another good insurance company to considered. It has gotten a 3.2 out of 5-star rating from relevant editors based on its customer reviews, insurance quotes and ratings. It also has a very good record in terms of complaints, which is far more relevant compare to some cheapest insurance providers. This might be the reason why it is considered to be the best car insurance in Montana in term of customer service. Some of its benefits are 12-month rate protection, Accident forgiveness, new car replacement and of course car replacement.
Source: https://www.thehartford.com/aarp/car-insurance/montana
Read Also: Cheapest Car Insurance in Alaska 2022, Most Competitive Car Insurance in California 2022, 05 Best Car Insurance in Texas, Top 10 cheapest Car Insurance in UAE,