It is mandatory to keep at least the basic requirements for car insurance in New Mexico. The minimum needs are $25,000 per person for bodily injury, $50,000 per accident for bodily and $10,000 per accident for property damage. Considered to be the 5th largest state of Us, New Mexico has a wide range of car insurance companies which usually help in fulfilling the needs. The policy applied by each of these companies take into consideration various factors, and the choice of the customers should be according to its purchase capacity. As such the following are some of these companies with common benefit which might guide clients in their choice.
1.Safeco
Known to have been part of liber Mutual since the 2008, Safeco car insurance in New Mexico offers a range of satisfactory discounts for customer relieve. In fact, it has got a 4.9 score from Bankrate, taking into consideration its interesting community support program, and its highly personalized policy. It also offers appreciable rate for professional drivers endorsing with important discounts. Its accident forgiveness policy is an additional benefit which could made it convenient for driver with good records. The overall advantage of Safeco Insurance remains its customer satisfaction which give a 5th position amongst good car insurance company in New Mexico.
Source: https://www.safeco.com/products/auto-insurance/coverage
2.State Farm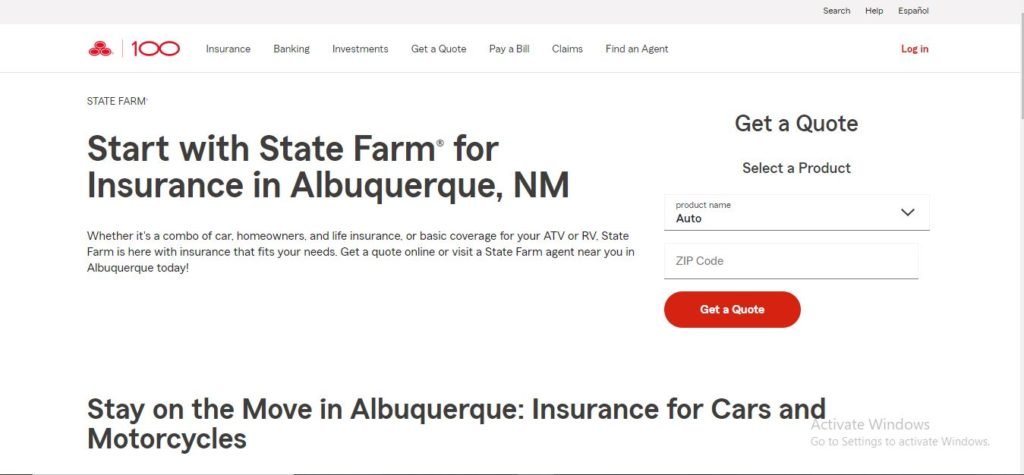 State Farm car insurance in New Mexico is quiet influential. Its affordable rate in important aspects as far as car insurance is concern contributed highly to its positioning amongst the cheapest if not the best. State Farm got a score 847 out 1000 from J.D. Power for customer satisfaction, a fact which relatively proof its concern toward clients. But, the interesting fact is its full coverage of $82 for monthly rate in New Mexico, about 40% less than the normal state coverage. In addition, it offers annual rate of $1,306 for drivers with prior accident, a rate considers to be lowest in New Mexico as it shows an important difference compare to the sate coverage for the same criterion. State Farm annual coverage for DUI drivers is also less compare to other car insurance dealers.
Source: https://www.statefarm.com/local/new-mexico/albuquerque
3.Allstate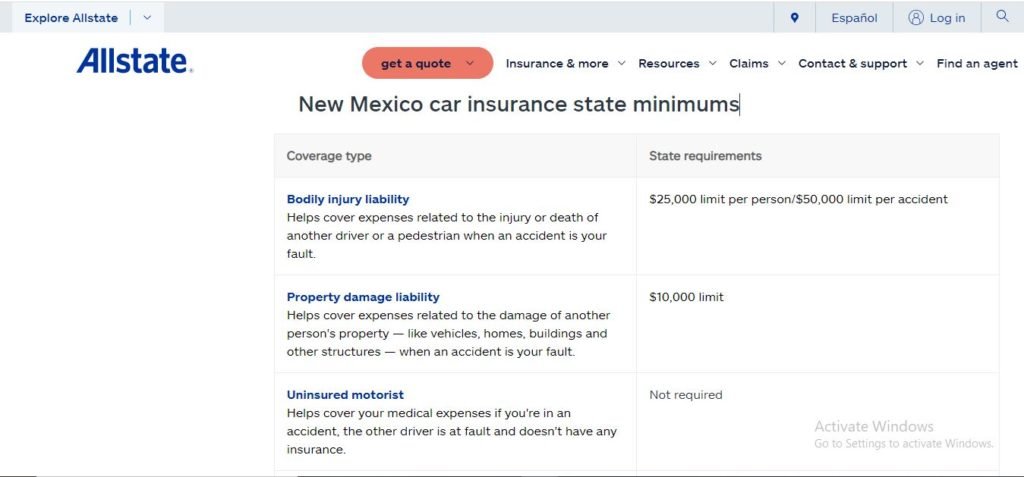 Allstate car insurance in New Mexico seems to be a little bit expensive, probably because of its various average coverage which seems to be regularly high. But considering some aspects taking individually, it might surprise more than one. For example, its monthly rate drivers after accident is to be considered putting it at the third position behind state farm and USAA car insurance in New Mexico. Allstate also offers a wide range discount to support customer in New Mexico. Some of which include safety features discount, new vehicle discount, good student discount, Early signing discount, pay-in-full discount, safe driving discount and many other which if taking into consideration could lead to payment of low car insurance in New Mexico.
Source: https://www.allstate.com/auto-insurance/new-mexico-car-insurance-coverages
4.USAA
The presence of USAA in the list of Car insurance in New Mexico isn't a surprise as it is one of the cheapest with good coverage at all. USAA car insurance in New Mexico is the best for current or retired military members, it has good rating score and the standard coverage always beats that of most competitors in car insurance market. USAA has an absolute low coverage for minimum liability, that is about $238 per year which is $312 lower than the state annual coverage. For driver with poor credit, USAA is always the best especially when you considered the fact that driver with poor credit usually have higher car insurance rate in New Mexico. If not of its exemption to certain category of individual, USAA car insurance will have been mostly recommended.
Source: https://www.usaa.com/inet/wc/new-mexico-car-insurance?akredirect=true
5.Geico
Its monthly rate coverage as car insurance in New Mexico is low, approximately $81 for adult drivers, even though it is not as that of USAA car insurance, it is somehow very close. It was rate with 4.6 out of 5 by J.D. Power in 2020 considering car insurance satisfaction at all. It is known to stand with best customer's service, a permanent task which never cease to impress more than one. This fact and its numerous discounts affect positively its overall positioning in the list of most considerate car insurance in New Mexico. Some of its discounts are the federal employee discount, defensive driving discount, good student discount, multiple discount and multiple policy discount.
Source: https://www.geico.com/information/states/nm/?gclid=EAIaIQobChMI16Ln372M-QIVhvdRCh0Xow1sEAAYASAAEgL4o_D_BwE
Read Also: 06 Most Affordable Car Insurance in Montana; Most Competitive Car Insurance in California 2022, Most Competitive Car Insurance in California 2022, 05 Best Car Insurance in Texas, Cheapest Car Insurance in Alaska 2022