The reality about owning a car in United Arabs Emirates is proven by the existence of car insurance companies all over the country. There are various car insurance in UAE dealing with different aspect, but the policy varies from one entity to another. Some of these groups are costly and even though the satisfaction might be relevant, customers are usually in search of both quality and flexible prices. No worries, there is an important number of car insurance in UAE which stand the client needs in term of price while covering the basic requirements as well the relevant ones.
1.Gateway International Insurance
With only 11 years in the market, Gateway international insurance is an underwriting agent of the Arabia insurance company. It has grown surprisingly to an expertise group with important revenues. Gate International Insurance is currently considered among valuable car insurance companies in UAE. This valuable consideration is due to its most comprehensive policy, taking into consideration that, a good insurance company is one which stands for customer, minimize documentation timing and of course, offers apart from the obligatory coverage, some extra benefits. As for Gateway international insurance, the extra advantage is the amazing cost effective for car insurance.
Address (Head office)
GIA, Al Reem Tower, 15th Floor,
P.O Box 4942, Dubai, UAE
Tel: +971 4 236 9000
Source: www.gia-arabia.com
2.AXA Insurance
AXA insurance remains one of the biggest insurance companies in the world. With its main office based in Paris, AXA has been in UAE for almost 72 years now. This company is represented in Abu Dhabi, Dubai, Sharjah. For Car insurance in UAE, it offers two comprehensive policies, Third Party Liability. The important fact with this large insurance group is its direct car policy which is rated as five star by some insurance experts.
Address
Floor 39, Churchill Executive Tower, Business Bay
P.O Box 5862, Dubai, UAE
Tel: 800 116 4845
Source: https://www.axa.ae/personal/products/car-insurance
3.Noor Takaful insurance
Here is another giant in the car insurance market. Noor Takaful offers a very supportive car insurance in AUE. Its main focus in this fact concern its 24h/7 availability for road assistance, agency repairs, no claims discount. But the most impressive is the comprehensive coverage which is up to AED 2,000,000, standard coverage for at least 3 years. The extension to other border such as Oman is also an advantage which leads to the ranking of Noor Takaful among the top reliable and trustful car insurance in UAE. It is represented in almost all the Emirate regions.
Address:
Dubai
Level 4, The Offices 1 at One Central,
Dubai World Trade Center,
P.O. Box 48883
Tel: 800 8252385
Abu Dhabi
M03, Mezzanine Floor,
Al Ghahedi Tower, Airport Road,
P.O. Box 31857
Source: http://noortakaful.com/
4.Orient Insurance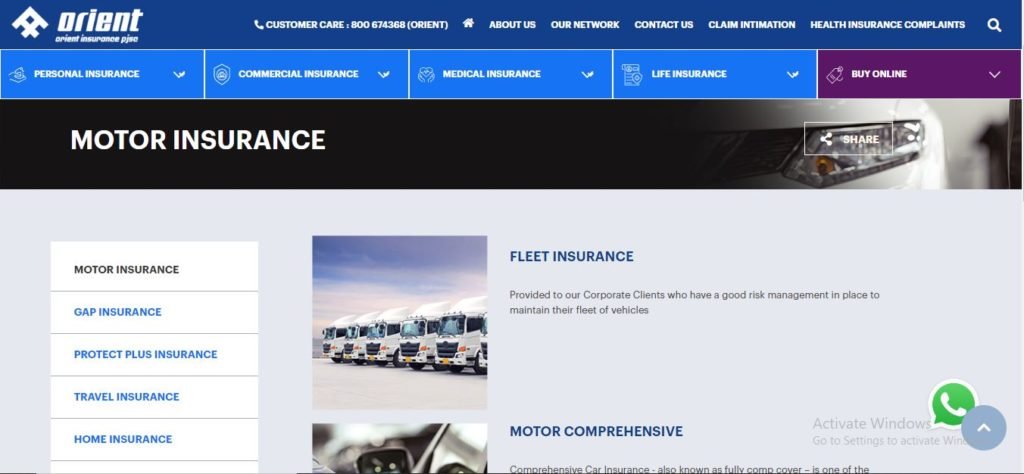 Orient Insurance was founded in 1982 With head office in Dubai. It is a reputed car insurance company in UAE. Its extended branches are in Abu Dhabi, Al Ain, Sharjah, Ras Al Khaimah. Other orient Insurance network out of UAE includes Bahrain and Muscat in Sultanate of Oman. The benefits offered by orient for car insurance in UAE are the Fleet policy which is provided for corporate clients with good risk management; it is provided along with other classes of insurance. The second policy is the comprehensive coverage it is one of the most advantageous with a "Motor plus" option which is a motor insurance providing extra benefits such as geographical extension to Sultanate of Oman, Free Life Insurance Cover for Individual Insured up to AED 100,000. The last policy is the common Third Part Liability cover which is mandatory for all car insurance in UAE. For Orient insurance case, it offers an unlimited Third Party Bodily injury coverage, and a Third Party Property Damage limited at AED 2,000,000 per occurrence.
Address :
Al Badia Business Park, Festival City
Orient Insurance Building
P.O Box 27966, Dubai, UAE
Tel: 800 674 368
Source: https://www.insuranceuae.com/category/personal-insurance/motor-insurance/
5.Watania Insurance
Watania Insurance was founded in 2011 by leading Abu Dhabi institution, it was later announced that it was going to merged with National Takaful company PJSC by June 2022. That doesn't really change the efficiency and the good reputation of this car insurance entity in UAE, on the contrary, it is an opportunity which surely improves its quality service and reliability. Watania car insurance in UAE proposed interesting coverages; some of which are the third Party Liability and comprehensive Car policy with all the known benefits including a discounted international Driving License. You do have additional benefit from IMC, a coverage which is not available in many other cases.
Address:
4th Floor, Tower A, Al Jazira Sports Stadium,
Al Muroor Road Opposite to Dusit Thani Hotel
P.O Box 6457, Abu Dhabi, UAE
Tel: 800 9282642
Source: https://www.watania.ae/motor-insurance/
6.Adamjee Insurance
Usually classified as one of the best insurance company in Abu Dhabi, Adamjee insurance is also a good option to consider when talking about car insurance in UAE. It does offer rapid application scheme with amazing claim process which eases the customer demands and support all along the way. Even though the coverages are the ordinary Third Party liability, still it is advantageous as it does offers theft and accidental damage compensation for the client's vehicle. The Adamjee Insurance is present in Sharjah region, Abu Dhabi, Dubai and outside of UAE specifically in Pakistan.
Address:
6th Floor, Mina Offices Building,
Unit No 601 Al Mina Street, Al Mareja Area
P.O Box 4521, Sharjah
Tel: +971 4 2752337
Source: https://adamjeeinsurance.ae/car-insurance/
7. Oman Insurance Company
Oman Insurance Company is one of the most solicited company for car insurance in UAE. Founded in 1975, it has grown to an extended insurance group with relevant presence all around UAE; that is approximately 12 branches. It is also present in Oman and Turkey. Its main coverages for car insurance are the Third party liability, and astonishing four levels comprehensive insurance which are the privilege club, comprehensive cover, premier cover and the specialist InsureMyTesla. These amazing facts justified its rank among the most considered insurance group for UAE residents.
Address:
Oman Insurance Building, Omar Bin Al Khattab
Street next to Al Ghurair Mall, Deira,
P.O Box 5209, Dubai, UAE
Tel: 04 233 7777 / 800 4746
Source: https://www.omaninsurance.ae/individuals/car-insurance
8.Clements Worldwide
It is an international insurance group established in 1947 in Washington DC, with offices in Dubai and London. It was originally made exclusively for US government employees, nowadays, it does serve everyone. Clements worldwide insurance offers impressive coverage, ranging from fully customizable policy with physical damage to Excess Liability Protection. Its commitment in customer expertise is without comparison as it is tailored to high quality level car insurance in UAE.
Address:
Dragon Mart 2-Business center,
P.O Box 52825, Dubai, UAE
Tel: +971 5 5660 4559
Source: https://www.clements.com/personal/international-car-insurance/, https://www.clements.com/contact/
9.New India Insurance company
This is one of the largest insurance company in India, it has been established in UAE since 1961. It is present in other Asia countries with good apprehension. Its success as a car insurance in UEA is somehow related to good policy which permits to cover various types of vehicles including private and Commercial cars. The said policy is of three types; Motor comprehensive policy insurance which covers against loss, damage to own cars, its accessories and spare parts. Many other aspects are covered by this policy. The second one is the Motor Third Party Liability which is as per the UAE law and also covers damage to third party property. The third policy is the motor fleet comprehensive very convenient for commercial cars such as trucks, vans, bus; it has relevant benefits.
Address:
Ground Floor Salem Saif Saqer Al Mehairbie Building,
Off Salam Street, Beside KM Hypermaket, Tourist Club Area,
P.O Box 46743, Abu Dhabi, UAE
Tel: +971 2 6440428
Source: http://www.newindia-uae.com/products/motor-insurance/
10.I-Insured car insurance company
I-Insurance is an insurance company founded in 1964 in Qatar and progressively was established in Dubai in 1968 and later on in 2002, the Abu Dhabi branch was opened. It is also represented in Oman, Kuwait and some European Countries. The important extension of this group in various zones shows its quality service and support for customers. As a car insurance in UAE it offers multiple benefits. One of its benefit is the convenient lower prices for better deal in all aspect. Its policy includes a comprehensive car insurance installment with possibility of gaining for every coverage at a low monthly cost without necessity of credit check. Then comes the ordinary comprehensive car insurance with many other complementary coverages. The last but not the least is the Third Party Liability car insurance usually mandatory with all its necessary advantages.
Address:
Office 210, Al Dana Centre, Al Maktoum Road, Deira,
P.O Box 4066 Dubai, UAE
Tel: 8004 742
Source: https://www.i-insured.com/UAE/car-insurance-product
Read Also : Top 5 amazing Car insurance companies in Ras Al Khaimah, 04 Most Reputable Car Insurance companies in Sharjah, Top 5 Best car insurance companies in Dubai 2022, 05 best Car insurance companies in Abu Dhabi, 05 Best and Cheapest Auto Insurance in Um Al Quwain, Top 04 Attractive Motor Insurance in Ajman,