It is one of the largest city by area in U.S.; car insurance in Jacksonville, Florida cost approximately $2,160 or $180 per month which is quiet expensive compare to the national average rate, but less than the state average cost. The cost for minimum average here is estimate at $885 per year which is also higher compare to the national minimum cost. The high prices of car insurance in Jacksonville is due to its huge number of vehicles on the road increasing somehow the rate of accidents case, hence affecting the insurance cost. the cost of insurance here depends on prior guidelines such as gender, age, driving record, credit score and more. Based on these factors and other, you can find here examples of companies whose rate can be satisfactory.
1.Geico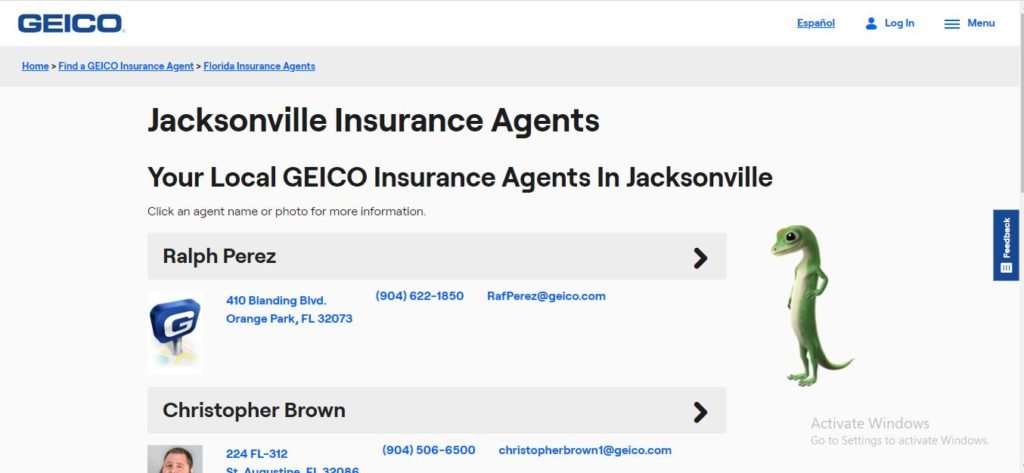 It is generally known for its sophisticated digital tools and exceptional customer service providing affordable cost in many aspects. Geico offers the lowest full coverage for car insurance in Jacksonville. Its average cost for full coverage is approximately 1,120 which is about 30% lower than the full coverage for the state. This full coverage does imply collision insurance with protection through payment of vehicle damage in case of accident and comprehensive insurance that protects the individual against theft or vandalism.  Geico offers the lowest cost for minimum coverage of car insurance in Jacksonville, offering a reduction of about 30% compare to the city rate. It is a good choice for driver with at-fault accident who benefit from affordable policy.
Learn more: https://www.geico.com/information/states/fl/jacksonville/
2.State Farm
State farm is also a good insurance company with good financial stability, and affordable rate. These conditions added to many more have contributed a lot for its improvements as insurance company in U.S.. It provides the second lowest cost for full coverage car insurance in Jacksonville; its annual premium is the least expensive with important reduction, an advantage that can be useful for everyone. Its minimum coverage is not the lowest in the group but compare to the city cost, it is somehow smaller, providing an important reduction percentage. State farm provides affordable policy for drivers with speeding tickets and those with DUI, who do gain important reduction. State farm, extra coverage includes rideshare coverage which is an attractive assert for all.
Learn more: https://www.statefarm.com/local/florida/jacksonville
3.MetLife
MetLife is considered as a good insurance company in U.S. providing good rate in solving claim obligations and offering average rate at the national level. Its overall average is usually the lowest compare to the city average cost. It provides high cost for full coverage of car insurance in Jacksonville which might be a big inconvenient. This is somehow balanced by the affordable policy provided for drivers with speeding ticket who do have to pay one of the lowest price offering a serious saving for customer. It does provide multiple coverage add-ons such as new car replacement and emergency coverage. It offers a good number of discounts including bundling car and home discount, good student discount, and safe driving discounts.
Learn more: https://www.metlife.com/insurance/
4.Allstate
Allstate is the fourth largest car insurance in U.S., it has an impressive financial stability and its customer service is not bad as well, having an above-average rate. It provides one of the lowest average policy for car insurance in Jacksonville for drivers with violation. Adult drivers provided one of the lowest cost for their policy with a significant contrast compare to the city cost. Allstate might be expensive but does offer some optional coverages such as Roadside coverage, sound system insurance coverage, Rental reimbursement, classic car insurance providing pay for spare parts, Mexico and Canada car insurance providing coverages for vehicles moving to any of these bordering country. Other profitable coverage are deductible rewards, safe driving bonus and more.
Learn more: https://agents.allstate.com/usa/fl/jacksonville
5.Esurance
Esurance is one of the best for its financial stability; meaning the company has a good track record of revering claims for customers. It was amongst the first insurer providing online services, this is another proof of its good service, and that really marked its great reputation.  It provides for car insurance in Jacksonville some optional coverages including emergency road service involving payment for towing assistance, flat tires change, battery jump start; rideshare coverage, rental car coverage, drivesense with a convenient discount. It does provide one of the most affordable cost for senior drivers who do gain important discount percentage in contrast to the city average cost. It provides important discounts such as switch and save discount, Drivesense discount and others.
Learn more: https://www.esurance.com/company/contact-us
Read Also: Cheapest car insurance in Minneapolis 2022, Best Car Insurance in Florida for 2022, Best deal for car insurance in Nashville 2022, Cheapest car insurance in Philadelphia 2022, Best car insurance in Rhode Island 2022