Like other Emirate cities there are motor insurance in Ajman which offers interesting price and supports for customer release. Some of these car insurance companies in ajman are subsidiary or branches with main representation in famous cities such as Dubai, Abu Dhabi or Sharjah. The most common ones which were already mentioned in the above cities include; AXA insurance, Noor Takaful insurance; Dubai insurance, Oman insurance, Sharjah insurance and many more. However, motor insurance in Ajman does include New India insurance, Union insurance; the list is quit exhaustive.
what is the best car insurance?
1.Union car insurance
Union car insurance was established in 1998, licensed by the UAE Insurance Authority with main branch in Dubai. It is also represented in Abu Dhabi. Its high quality online claim is one of the main point which ranked it among relevant group of insurance in UAE in general and Ajman in particular. Union Car insurance policies include;
Standard Comprehensive: it offers complete protection against unfortunate road events for both the customer and vehicle. It provided up to AED 3.5 million third party property damage, unlimited coverage of Third Party Bodily injury, ambulance services, silver plan for Road Assistance, fire and theft coverage.
Superior comprehensive: this policy provides a wide range of optional benefits. Some of which include; about AED 5million for Third Party Property Damage, Third Party Bodily Injury coverage, unlimited coverage of Third Party Bodily injury, Gold plan for Roadside Assistance.
Third Party policy: it provides basic insurance plan that covers damages, about AED 2million, unlimited Third Party Bodily Injury coverage as well, but Fire, Theft and Accident of Overturning are not Applicable in this policy.
Address:
Building ,Ground and Mezzanine Floors-
Shekh Khalifa Bin Zayed Street-3 Al Nuaimia-Ajman
P.O Box 1225
Tel: +971 06 701 4666
Source: https://www.unioninsurance.ae/en-us/personal/motor-insurance/
2.AL SAGR National Insurance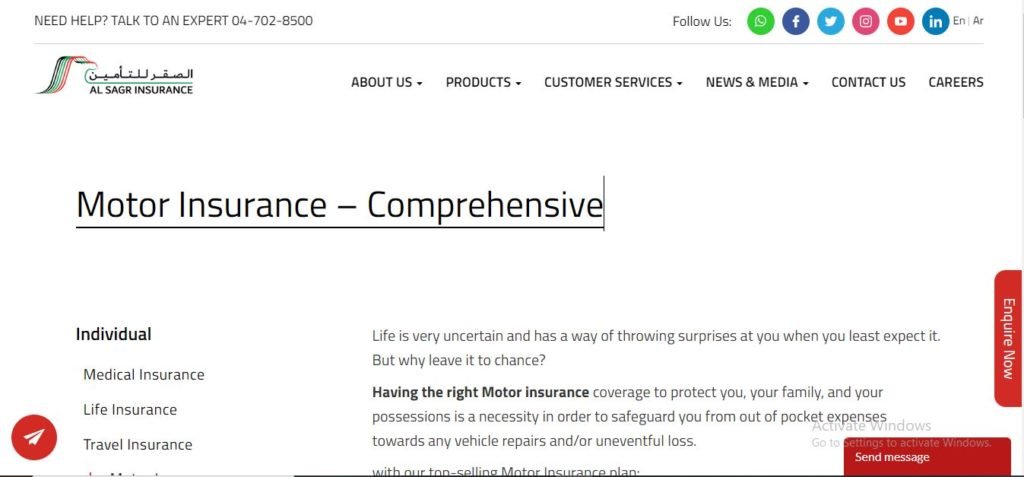 Al SAGR National Insurance was created in 1979 and has a headquarter in Dubai. It is fully owned by UAE Nationals and its contribution to the economic growth is appreciable. It does offer two main types of coverage for motors
Comprehensive policy: known as the basic policy, it covers own damage to vehicle, death or bodily injury to any Third Party, damage to Third Party property up to certain agreed amount.
Third Party Liability Policy: the coverage includes death or bodily injury to any Third Party with unlimited amount, damage to Third Party property is also covered up to agreed amount
Address:
Ground Floor, Al Ghumlasi Tower-
Sheikh Khalifa Bin Zayed Street Ajman
Tel: +971 6 7313216
Source: https://www.alsagrins.ae/insurance/motor-insurance-comprehensive/
3.New India Insurance
This is one of the most famous motor insurance in Ajman. The New India Insurance was founded in 1919 by Sir Dorabji Tata with a headquarter in Mumbai. It is represented in about 28 countries and its notoriety has been considered through an awarded A-excellent in 2007; a proof of its overall influence in the insurance market. It does offer considerable policy for motor insurance. Apart for the basis support as per the UAE law, New India insurance provides customers with;
Motor third-Party liability insurance: covers various accidental damaged incurred by the third-Party cars in accident caused by own-driver; theft, fire protection and explosion are also covered
Motor Fleet Comprehensive Insurance: this policy is ideal for businesses with important commercial vehicles such as pickup, bus, vans and trucks. It does offered possibility for customer to choose either fleet insurance or Comprehensive or the basic insurance cover.
Motor comprehensive Insurance: comprehensive insurance covers against loss, damage to own car, accessories and spare parts. Further benefits are agency repair, Road Assistance, off road cover, personal Accident passenger benefits.
Source: http://www.nia-dubai.com/
4.Aman insurance
Established in the mid-year of 2002, Aman insurance has been very closed to its customers. It is considered as one of the prominent Islamic insurance company with comprehensive system of services that supports clients. The Aman motor insurance in Ajman plays an important role in meeting the high demands of customers. Some of its viable offers include:
Coverage against loss, damage and third party liability
Unlimited Third Party coverage for death or bodily injury
Agency repair for two years from first registration
Free road assistance 24 hours a day, for seven days a week
Replacement of vehicle service at nominal cost
Address:
Gulf Tower – B1 Mezzanine Floor
Oud Metha Road, Bur Dubai
Toll Free: 800 4998
Source: https://aman.ae/home/?page_id=871
Read Also: 05 Best and Cheapest Auto Insurance in Um Al Quwain, Top 5 Best car insurance companies in Dubai 2022, 5 Best car insurance companies in Fujairah
Summary
Above listed are some good insurance companies in ajman. Also, these car insurance companies in uae provide its services. Above are one of the top 4 cheapest car insurance in uae.
Other Famous Car insruance companies in other states of UAE.