Car owners can find good car insurance in any state in US depending on their personal requirement. Car Insurance in Arkansas is considered to be one of the most expensive with a decrease rate of about 5% compare to national Rate. The average cost of car insurance is nearly $554, that is $46 per month for minimum liability. Full coverage insurance costs an average of $2,500 per year, a cost which is quite high, but drivers do have possibility to get affordable cost through good car insurance companies like State Farm, USAA which is specifically for military and their families, Geico and others.
1.State Farm
It is one of the largest insurance company in US well known everywhere and available 24h/7. State Farm car insurance in Arkansas is among the best with attractive rating score at all points. It is a customer reliable company, with good score in customer satisfaction just like in any other State. Its presence in Arkansas in remarkably noticed by its most affordable annual coverage for good drivers, it offers an amount with $500 difference compare to State normal rate. Moreover, while Arkansas usually imposed an increase of about 25% on drivers with speeding ticket, State Farm does the exception, providing to this category, a hike of only 8%, leading to an annual rate which is far lesser than that of the State. It also provides numerous discounts.
Learn more: https://www.statefarm.com/local/arkansas
2.Auto-Owners
It might not be that much popular like the above mention company, but its reputation as a car insurance in Arkansas justified its presence in this list. Auto-Owners provided excellent customer service to Arkansas drivers, with possibility to get information everywhere through its active agents who are on the field to propel needed information. For that reason, it's got a good rating score from J.D. Power for customer satisfaction. It is also an interesting choice for its various customized policies given opportunity for clients to stay in the range of its shopping habits provided with important savings. Its costly average premium doesn't remove anything from the important discounts it offers for various categories.
Learn more: https://www.auto-owners.com/
3.Farm Bureau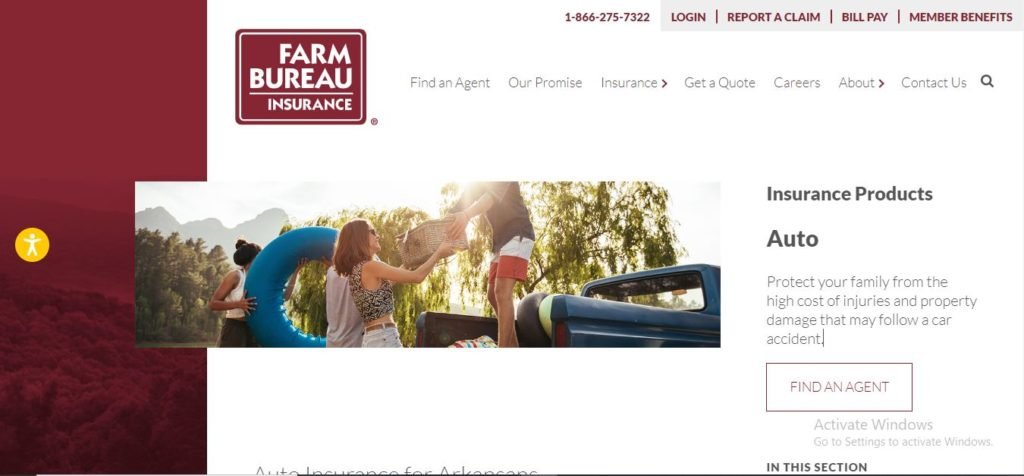 This is another insurance establish to help people all around the States. As a car insurance company in Arkansas, farm Bureau has good customer rate. It provides with State Farm competitive rate for good drivers, and its annual rate here differs from that of the State rate with 20% decreased. It is also advisable for drivers with speeding ticket offering a lower increase rate compare to the state value. Drivers with DUI are welcome to gain from the lower annual estimate rate proposed by Farm bureau car insurance in Arkansas with a reduction percentage of nearly 30% from the State range. parents who desired to add their teen in their insurance are the most beneficiary group with an increased rate of only 66% compare to the 120% added by the State for drivers of this group.
Learn more: https://afbic.com/insurance/auto/
4.Allstate
It is also a famous group quiet popular, but its difference with others are the rates usually above or very close to that of every state normal rate. However, Allstate car insurance in Arkansas seems to have made some changes. It has a good financial stability, good rate for user satisfaction and above all, provides young drivers with the most affordable rate. An opportunity which is usually rare considering the usual rates its proposes in Other States. Citizen can gain also from its various discounts which tend to favor mostly students. Some of the discounts are good student discounts, distant students discount, this is the most appreciable one, it will enable children attending long distance school to benefit some savings in their normal coverage.
Learn more: https://www.allstate.com/auto-insurance/arkansas-car-insurance-coverages
5.Geico
Geico has good financial stability as well, good reputation and above all is also a very large company. Geico car insurance in Arkansas has got good rate for customer service, scored an incredible 846 out 1,000 points from J.D. Power for customer satisfaction. It is an overall good company for its quick an easiest access quotes which facilitated customer transactions and above all, information for convenient choice. It provide good rate as well, specifically for individual wishing to choose the minimum coverage policy, it provides the lowest cost for this case. It also provides wide range of discounts including bundling auto and home discounts, Anti-theft system discounts, federal employee discount, good student discounts and more.
Learn more: https://www.geico.com/information/states/ar/
Read Also: 05 cheapest Car insurance in New Mexico, 06 Least expensive Car Insurance in Arizona, best-car-insurance-in-north-carolina/, Best quotes for Car Insurance in New York 2022