Auto insurance in North Dakota is relatively cheap. The average annual cost is about $1,390 which is below the national average in United State. This amount could be lesser, depending on the car insurance company. But getting to a cheaper company is not an easy task, it does require a groundwork whilst taking into consideration relevant factors related to individuals or companies. The following review has eased the searching and will surely suggest some good ones depending on few criteria. But the choice will still depend on each person as the usual concern of each customer is to get an insurance that will contribute to the most while permitting savings.
1.Nodak Mutual
if you are looking for a possibility to pay only for minimum liability coverage while keeping good saving; well, Nodak Mutual auto insurance in North Dakota is the best choice. It is the cheapest car insurance for minimum liability and its annual average is about $206, this estimated average is lower than statewide. Nodak Mutual provides cheapest rate for full annual coverage of car insurance, its cost might not be the top lowest but is considered to be as USAA which is the lowest and confined only for military and their families. Nodak Mutual is also very supportive for drivers with ticket, and for senior drivers, the reason being its most affordable rate for these two categories compare to normal cost statewide.
Source: https://www.nodakins.com/
2.State Farm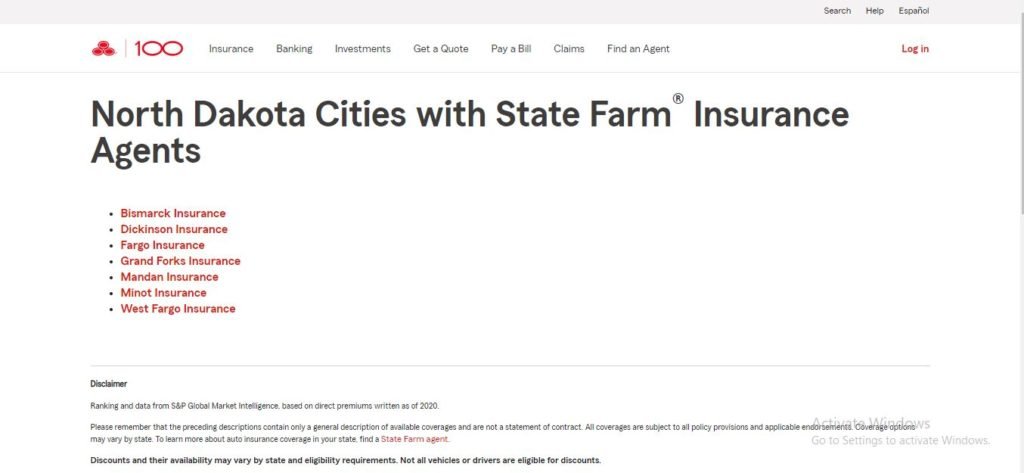 State farm car insurance in North Dakota comes as the second position for minimum coverage. Its average cost for the minimum requirement is closer to that of the cheapest hence, is affordable for client. It is also good for driver with prior accident causing injury; it does offer an annual estimated coverage which is far lower than the statewide and that of some close competitors like Nodak for the same. It is providing an annual coverage of nearly $1,325 for driver with DUI; a cost which not only is lower but also is the cheapest in the list for this category. It can be considered for drivers with speeding ticket, even though its rate might be too small, it is somehow manageable with a little profit.
Source: https://www.statefarm.com/local/north-dakota
3.American Family
This is another giant with attractive costs. American family car insurance in North Dakota is appealing first of all for its advantage for parents who want to add their kids in their insurance, it offers lower increased percentage which allow customer to shop around its income. According to Forbes Advisor, its average percentage of increase for adding teen driver in the insurance is about 53% half the statewide increase percentage which is up to nearly 120%. American Family is also a good choice for drivers with DUI, its average annual rate for these drivers is the lowest providing a huge difference of approximately $800 with the state normal cost.
4.Allstate
Allstate in most of the state ever review always revealed high rate either very close to the state value or lower with a very tiny contrast. This time around, Allstate auto insurance in North Dakota has made a huge difference. It is the most advisable car insurance for its quality service which has lead to a competitive position according to J.D. power, with a score of approximately 832 out of 1,000 for user satisfaction. This is an appealing sign for its good reputation and the hard work endeavoring every single day to stay close to customers. It is known for its good settlement process and reliability at all course, considering its effort for offering an option of car replacement for customers as well low mileage cost for those who meet standards.
Source: https://www.allstate.com/auto-insurance/north-dakota-car-insurance-coverages
5.Geico
It is an example to be taking into consideration at all cost. Geico auto insurance in North Dakota is considered by Forbes advisor to be best choice with a low average annual cost for good drivers. The estimate amount charged by Geico for this group is about 52% lower than the normal cost nationwide, a reason enough to be considered among affordable auto insurance in North Dakota. It is also advisable for drivers with speeding tickets, whose annual coverage is also affordable just as with State Farm. Teen drivers are the luckiest considering that Geico insurance has set an average cost which provide an important discount for this category, allowing them to pay an estimate rate which is about 50% less than the normal cost.
Source: https://www.geico.com/information/states/nd/
Read Also: Affordable Auto insurance in Kansas 2022, Cheap Car Insurance in South Dakota in 2022, Best Auto Insurance in Colorado 2022, Best Car Insurance in Nebraska 2022, Cheapest Car Insurance in Alaska 2022