The average minimum coverage for car insurance in South Dakota is much cheaper than the national average. Car owners are to pay a minimum of $565 per year and $1,642 for the full annual coverage. An amount which is also lower than the national average for the same. The relevant concern here is to get in touch with a car insurance company with lower rates or profitable discounts which will help every single individual make good saving while being protected from any mishap. The rate varies company wise and also, there are different criteria to be taken into consideration while looking for the most convenient car insurance. The following are few amongst the best which might be convenient.
1.State Farm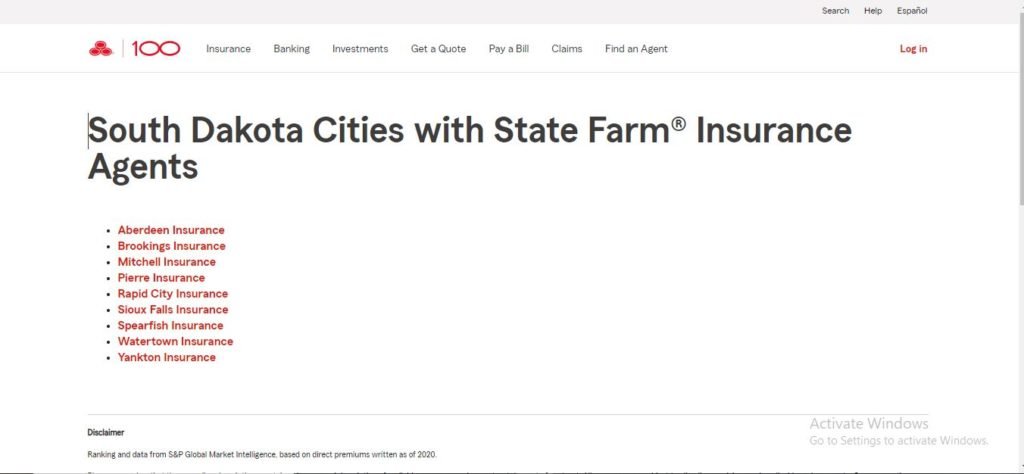 It is the most convenient choice among car insurance in South Dakota, its annual rate is best in overall annual premium, and it is highly rated for customer service. It is the best as well for drivers with DUI. It offers an average annual rate for this category which is far lower than statewide with a difference of almost $1,100; an appealing difference which is very profitable and does enable important saving for individual of this group. It can be considered for drivers after speeding tickets, the reason is its smaller rating compare to statewide. It is recognized as a company with important market share and its good financial strength which is a relevant aspect characterizing car insurance companies.
Source: https://www.statefarm.com/local/south-dakota
2.Auto-Owners
It is the first of top in the list for car insurance in South Dakota with good customer service. It is high rated for customer user satisfaction justifying this thought. It does have a good financial strength as well, hence can be recommended because of its good stability. It comes at the top of car insurance companies in South Dakota with cheapest minimum coverage per year which is the most affordable in the whole group. Its rate for drivers with prior accident might be the lower, but is the second lowest so it can be advised because of the possibility of offering an amount is better than the statewide cost. In addition, its rate for young driver is also affordable, with a possibility of gaining an important discount percentage.
Source: https://www.auto-owners.com/
3.American Family Insurance
It is usually considered for it customizable coverage, so is the case here. American family car insurance in South Dakota is the safe choice with online quotes combined to an intuitive application. Its online availability gives easy access to claim provision and quick reaction. This company provides a wide variety of coverage including collision, personal injury, medical expenses, gap insurance, underinsured, rental reimbursement and more. Even thought, its financial strength is not well rated, American Family provides important range of discount which are bundling policies, multiple vehicle discount, loyal discount, switching from another car insurance to American Family, discount for driving course and others.
4.Geico
Geico car insurance in South Dakota is another appealing choice for drivers based on its great reputation and good user satisfaction. It is also one of the most affordable with multiple discount enabling important savings. It has the cheapest minimum coverage rate annually considering that there is no discount for paying premiums in full, this option could be the most satisfactory. It offers the third lowest average annual rate for drivers with poor credit, it is an advantage as this value has a difference of about $400, quite considerable. Common discounts of this company are customer loyalty discounts, vehicle equipment discounts, anti-theft discount, good driver and student driver discounts.
Source: https://www.geico.com/information/states/sd/
5.Nationwide
It is also another reputable company with coverage rate standing for its good ranking. Nationwide car insurance in South Dakota converts the stress of parents stressing about adding their teen drivers to their insurance. While, most companies in this case do provide an important percentage of increased in the normal coverage, nationwide does as such but the percentage is not that important, hence the payable amount in this case in low than the competitive companies. Nationwide is also a good choice for drivers who do not drive regularly, it provides the cheapest coverage for low-mileage subsequently, it won't be better for driver who are constantly on the road as the cost might varies considerably.
Source: https://www.nationwide.com/personal/insurance/auto/state/south-dakota/
Read Also: Best Car Insurance in Nebraska 2022, Cheapest Car Insurance in Alaska 2022, Best Car insurance in Idaho 2022, 06 most affordable Car Insurance in Wyoming