Car insurance in Washington seems to be less expensive; consumers will pay a roughly amount of $1,667 per year which is quite lower than the national average coverage. the basic requirement therefore seems to be at the reach of every citizen but, getting a better company with possibility to access good discount is still not easy. Considering the fact that Washington is at fault state, paying the basic requirement is to be noted as well. It is a necessity for each individual to compare the quotes of different companies dealing in this domain, in addition to the common criteria, factors which are considered in this State, include the region or location of the client.
1.Geico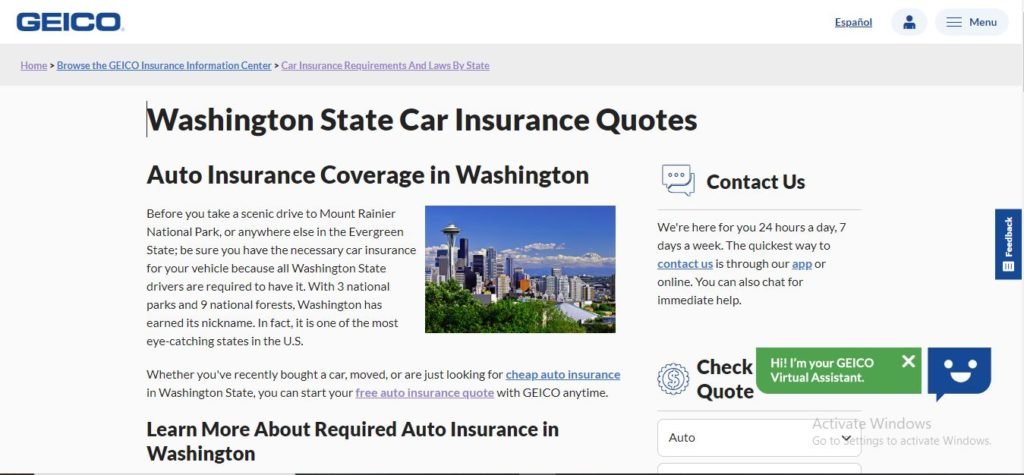 Geico car insurance in Washington has been well rated, and stand to be best with lower annual premium coverage, making it the least expensive of the list of cheapest insurance company. It's got an impressive score for user satisfaction from J.D. Power, meaning that, it has a good customer service and offers opportunity for customizable policy. Some of the most important aspects covered by Geico car insurance in Washington are the Road side assistance with possibility of towing as well; mechanical breakdown insurance which covers car part likely to breakdown, safe driving program which is in favor of drivers who drive safely and provides a monitoring accessories to assured the continuity, hence providing good saving for this case.
Source: https://www.geico.com/information/states/wa/
2.State Farm
Well represented and qualified at any cost, State Farm car insurance in Washington maintains the rank by being the best choice for drivers with poor driving records. As it offers an average annual coverage for this category which is less than the state cost. Its great financial stability is also well recognized in Washington and does add a plus to its merit. State farm also provides roadside assistance just like Geico, but the difference is the possibility of car rental reimbursement which is an advantage to consider. Its policy might not be the most customized one, but its endeavor to go close to customer anywhere in Washington is a great approach which plays an important function in its extension.
Source: https://www.statefarm.com/local/washington
3.PEMCO
Pemco insurance was established in early 1972 as a chartered company made to offer preferred automobile coverage to educators. It is now an extended group with appreciable rate which help everyone else. It offers for single adult driver a rate much lower than the statewide. Pemco car insurance in Washington is a choice to consider, with various discounts such as auto and home bundling, good student discounts and distant student discount. Further benefits are Accident forgiveness for drivers who have free accident record for at least five years; and minor ticket forgiveness for drivers without ticket for at least five years as well. Drivers with low mileage are also qualified for low mileage discount yearly.
Source: https://carsurance.net/reviews/pemco-auto-insurance/
4.Progressive
Progressive car insurance in Washington gains good marks for its lowest average rate which is the second best rate after that of USAA insurance company. The main advantage for this category is the coverage providing a possible saving up to $200. Progressive provides interesting rates for drivers with poor credits and for good drivers. Its average cost in both cases is lower than the statewide average. But the most relevant of all is its annual average cost for Driver with DUI. In fact, Progressive car insurance in Washington is the best choice for this category with a possibility of providing up to 32% less compare to statewide range.
Source: https://www.progressive.com/answers/washington-car-insurance/
5.American Family Insurance
American family is a good insurance for every individual capable of taking advantage of wide range of possible optional coverage with possible discounts. It has a good customer service rating with fewer complaints, a proof of its interesting financial stability. American Family car insurance in Washington could be a good choice for young adult drivers, it has the third less average rate for this category and this rate is quite lower than the statewide, an opportunity for car owners to get some discounts. The same goes for senior drivers who received an affordable rate. Drivers with DUI can also gain for its advantages through lower rate as well.
Read Also: Cheap Car Insurance in South Dakota in 2022, Best Car Insurance in Nebraska 2022, Affordable Auto insurance in Kansas 2022, Best Car insurance in Idaho 2022