The cost of car insurance in Las Vegas is $2,640 per year for average full coverage, that is more expensive than the average cost in the whole Nevada State and the national average cost which is nearly $1,550 per year. Depending on the customer case, they might pay less or higher rates in Las Vegas. The reason of this high rates is probably the population density in urban area which is high, thus impacts on auto insurance cost. But as mentioned earlier the cost depends on factors such as age, driving records, safe driving, type of vehicles and many more. It is still possible for every car owner to get an affordable cost from any reputable company depending on any of the above factors and considering the client personal needs.
1.Geico
Geico always receives a good rating for customer service, it is quiet efficient in handling claim, that is probably because of its strong financial base. It does offer the lowest cost policy for car insurance in Las Vegas. It offers interesting coverage including mechanical breakdown which is an exceptional coverage for all parts and systems. It provides the lowest cost for minimum coverage, that is nearly $640 per year; compare to the city cost, it is quite affordable. It provides exceptional lowest rate for some categories. For example, its annual full coverage for drivers with clean record is the least as well providing an important reduction percentage from the city rate. It provides discount for good student, driver education discounts, multiple car discounts and more.
Learn more: https://www.geico.com/information/states/nv/las-vegas/
2.Nationwide  
Nationwide is another large insurance company providing good products. Its customer service is not the most appreciated but, it does manage somehow to come along as one of the most reputable insurance company in U.S.. Its most important asset as a car insurance in Las Vegas is the affordable rates it provides for different group of individuals and it has variety of coverages as well. Some exceptional coverages provided only by this company include vanishing deductible, and accident forgiveness which is rarely seen in most of the competitors. It provides interesting coverage for family coverage, that is for parents including teen in their insurance policy. It also offers huge number of discounts for various categories, offering possibility for good savings.
Learn more: https://agency.nationwide.com/nv/las-vegas
3.State Farm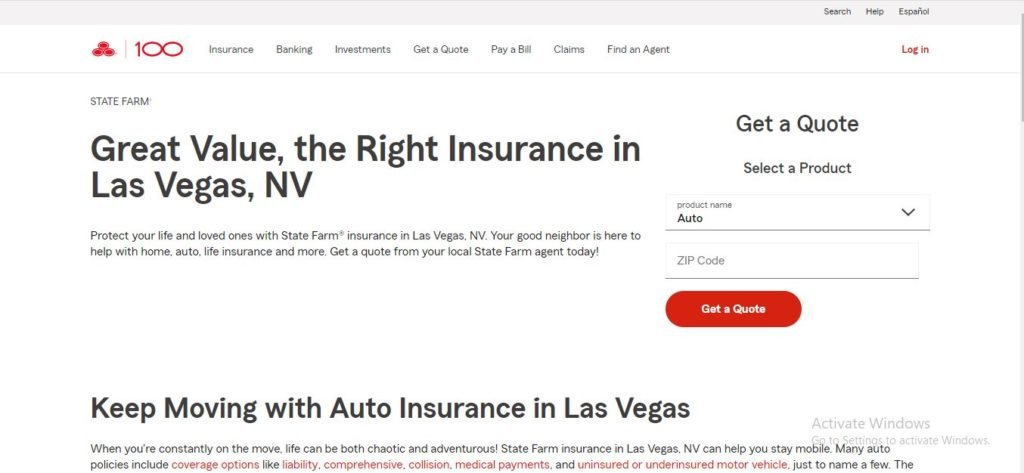 State Farm is one of the largest insurance company in U.S., offering good customer service. But its best asset is the strong financial base which provides quality offer to support customer at all level. It provides lowest cost for average premium coverage; an advantage which is very profitable for every customer. It provides a unique rideshare insurance coverage which is not optional. It offers good policy coverage for high-risk drivers in Las Vegas. Some of the beneficial are the Diver with DUI with lowest rate as well, drivers with prior accident case do benefit for affordable rate as well as important reduction. It provides plentiful discount including competitive usage-based telematics program and young drivers do gain a lot from the various reduction.
Learn more: https://www.statefarm.com/local/nevada/las-vegas
4.Progressive
It is one of the largest insurance company in US offering possibility to get access to insurance in all area. It provides best coverage at all levels, with possibility to gain important reduction. It offers one of the lowest average cost for car insurance in Las Vegas; its has an annual premium cost which is the third cheapest compare to close rivals. It does help customer build up management of budget with good savings. It provides customer possibility to add-on other optional coverages including deductible savings, comprehensive deductible for every claim, and rideshare coverage rarely seen in other auto insurance companies. It is also a good choice for high-risk drivers providing them with different policy options with good discount.
5.Travelers
Travelers is one of the largest insurance in US, providing strong credit for rating at all levels, and its customer rate is above-average, proving its important availability for customer needs. Its best asset as car insurance in Las Vegas is its financial stability which is quiet appreciable. It offers the lowest average cost for drivers with good record, a cost which has a reduction of about 30% compare to the city normal value for the same. It is well rated for it easy access, providing huge possibility for customer to look for corresponding quotes online and make a comparison to get the most affordable cost. It is provided with strong digital tools which do help in this purpose. Travelers company provides for customer in huge array of discounts.
Learn more: https://agent.travelers.com/nv/las-vegas
Read Also: Best car insurance in Los Angeles 2022, Affordable car insurance in Chicago 2022, Best car insurance in USVI (U.S. Virgin Islands) 2022, Best car insurance in Puerto Rico 2022