Car insurance in Puerto Rico is one of the least expensive with an exceptional possibility for the government to provide basic liability at a reasonable price. While public liability cost around $4,000 for damage to other vehicles as a result of a traffic accident; the typical full coverage policy for a car of about $20,000 cost between $800 to $1,300 per year. However, there are different car insurance in Puerto Rico including double Interest Car insurance, full cover insurance, Gap insurance and Liability insurance. Anyway, the price of the car insurance varies based on different factors including amount of coverage being purchased, age of the driver, the value of car itself. Some of the most appealing car insurance in Puerto Rico are listed below.
1.MAPFRE
Established in 1920, MAPFRE is the oldest car insurance in Puerto Rico. It is one of the best with multinational team working hardly to improve the company service and customer trust. It is a company with great value, innovation and commitment to quality service. It provides a wide array of policies including extended warranty with interesting coverages and benefits of mechanical breakdown coverage as well as roadside assistance coverage. The second policy is the public liability insurance proposing only up to $4,500 coverage to third party cars, without any coverage for damage to third party.  Then come the full coverage policy providing total protection, the compulsory liability insurance, Autoplus and Roadside Assistance Insurance policy.
Learn more: https://www.mapfre.pr/en/auto-insurance/
2.Universal
It has been operational for the past five decades offering challenging products including car insurance in Puerto Rico. It has been offering impressive service with commitment to customer quality service. It is one of the largest insurer providing various policies for car insurance in Puerto Rico. Some of which are the personal auto policy proposing one-year term policy for physical damage and liability insurance coverage for cars. Then comes the double interest policy usually purchased for financed vehicle, this policy offers collision and comprehensive coverage. The auto liability policy is another good choice proposing broader coverage and higher limits than the minimum required, but it is mostly for damages caused to others. Last but not the least is the Travel and Road assistance policy offering towing service and more.
Learn more: https://www.universalpr.com/UPPublic/Home.aspx?UniqueName=Auto_Anual
3.Popular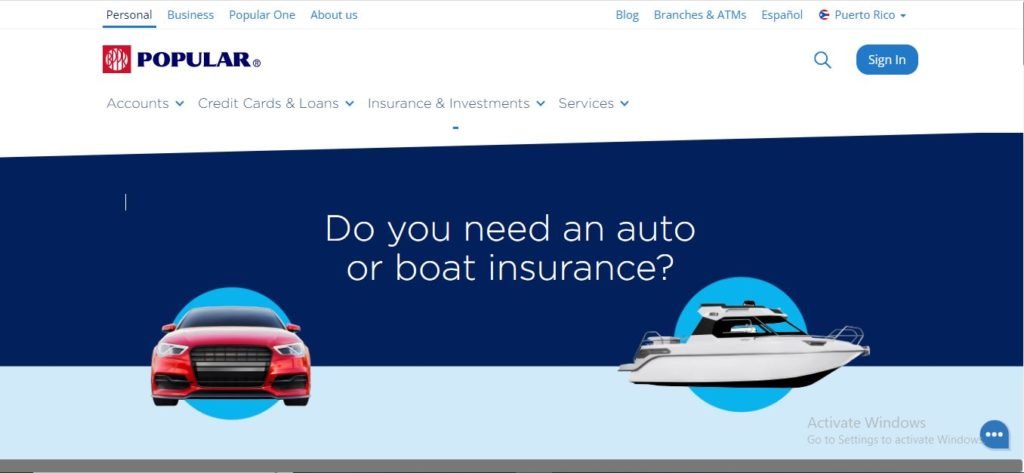 Established over a century ago as a small bank, Popular has improved greatly to an impressive corporation providing also car insurance in Puerto Rico and other financial products and services. It does provide quality services including comprehensive coverage which pays for damage or loss of car due to accident, collision coverage proposing payment for losses resulting for car accident, civil liability coverage which pays for damages to third parties for liability and property damage, medical payments coverage which proposes reasonable expenses for medical services, transportation expense coverage which covers a pre-set car rental stipend when car has been stolen and road assistance coverage  paying for towing, tires changes and more. The particularity of this corporation is Auto Seguro, an easiest way to gain access to auto insurance online.
Learn more: https://www.popular.com/en/insurance/auto-boat/
4.1st Bank Insurance
Founded in 1949, 1st Bank has been providing personalized service and innovative solutions designed to improve and ease customers lives. It does provide great services and outstanding solutions for everyone to meet his financial needs. Some of the policies provided by 1st Bank as a car insurance in Puerto Rico are compulsory personal liability which is the basic coverage covering physical damages to the third party, Public Liability covers against physical injuries or property liabilities as a result of accident, Full cover policy for annual coverage of liability, comprehensive, collision, and medical expensive coverage, double interest policy providing a two-way coverage including protection against damages related to fire, theft and vandalism and against damages related to a collision, gap insurance policy, road and travel assistance policy.
Learn more: https://www.1firstbank.com/pr/en/retail-banking/insurance/auto-and-boat-insurance
Read Also: Best car insurance in District of Columbia 2022, Best car insurance in Rhode Island 2022, Best car insurance in Delaware 2022, Most affordable Car insurance in New Jersey 2022, Best and reputable car insurance in Hawaii for 2022