All drivers are required to carry car insurance in New Jersey that include both liability and personal injury protection coverages. The penalties for not obeying this rules could be costly with additional fines, license or car registration cancellation or even more. The cost for full coverage car insurance is $1,781 per year; while the minimum coverage costs on average $855 per year in New Jersey. These are relatively expensive compare to the national coverage which cost approximately 10% lesser. One of the reason of the highest cost of car insurance in New Jersey could be the no-fault policy and the higher population density. However, it is possible for drivers to get good deal for their car insurance considering some conditions.
1.New Jersey Manufacturers
Only available in few states including Connecticut, Maryland, New Jersey, Ohio and Pennsylvania, this company has been well rated by J.D. Power for its good customer service. It provides personal lines with exceptional car insurance claims experience which is add-on for its good reputation. Their commitment to customers has a great position for car insurance in New Jersey. It provides affordable annual full coverage for drivers with prior at-fault accident offering possibility for about 10% reduction compare to the state normal value. It offers additional coverage in this case as well such as roadside assistance and rental car reimbursement. Although it might be quiet supportive, it doesn't provide accident forgiveness discount, nor new car replacement coverage.
Learn more: https://www.njm.com/
2.Plymouth Rock Assurance
It is an insurance company represented in about 6 States in US, it is ranked a below-average car insurance provider, low ratings for satisfaction and discounts but good affordability standard. As a car insurance in New Jersey Plymouth provides the lowest annual average coverage for good drivers, given a reduction of almost $1,000 compare to the state rate. It is also a good choice for drivers with prior accident case causing casualty who will finally pay an amount of $1,300 which provides a reduction of about $1,000 compare to the State normal cost. It is quiet supportive proposing affordable rate at any level, even if it is not the lowest in the list its rates are usually in the range of the most competitive cost.
Learn more: https://www.plymouthrock.com/insurance/auto/other
3.Geico
Known for its quality service and quiet affordable rates, Geico is an insurance company with long year of experience, good reputation and important representability. It stands to be the best of all for car insurance in New Jersey offering competitive coverage at all. In fact, Geico provides the cheapest cost for annual average full coverage policy in New Jersey, proposing a reduction of almost $600 compare to the state cost. It is the better choice for teen drivers who are paying almost 50% less than the State charge. Adult drivers are also paying the lowest cost for annual rate, even though the difference might not be that much consistent. But the most relevant case is for senior drivers who pay less than $1,000 for average annual coverage.
Learn more: https://www.geico.com/information/states/nj/
4.Progressive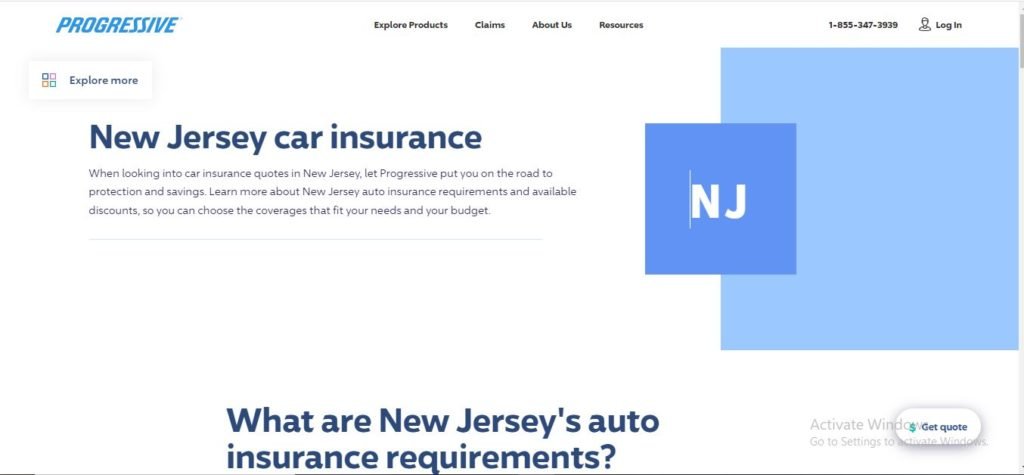 It is another large insurance company well represented as well, having good financial strength and extended to almost all States. However, it is usually considered to constantly provides expensive average premiums. Progressive is a good car insurance in New Jersey proposing the second lowest annual average coverage. It is the best choice for high risk drivers who will pay an absolute low coverage for every circumstances. Drivers with DUI for example, do pay the second lowest cost with Progressive, gaining about 45% reduction from the state usual cost for the same. Drivers with poor credit and senior drivers do also pay good rate provided with important deduction rate compare to the state average coverage.
Learn more: https://www.progressive.com/answers/new-jersey-car-insurance/
5.Nationwide
Nationwide usually receives low rating for customer service, but its financial stability and competitive rate stand at the better position to build its overall reputation as a good insurance company. It provides for car insurance in New Jersey, good and affordable rate for good drivers offering a possibility to save more than 10% compare to the State cost. It is also quiet supportive as the level of complaint is very low; a reason enough to justify its good reputation even though the customer service is not the top one, it somehow, manage to stand the need of the client at all cost. It provides wide array of discounts, including, bundling home and car discount, multicar discount, good student discount, SamartRide program discount and many other.
Learn more: https://www.nationwide.com/personal/insurance/auto/state/new-jersey/
Read Also: Best car insurance in New Hampshire 2022, Best cheap car insurance in Massachusetts 2022, Best and reputable car insurance in Hawaii for 2022, Most Affordable Car Insurance in Kentucky 2022