Getting a car insurance in Massachusetts is a hard not to crack; car owners have to dig deep into various websites to find the convenient company. It is a task which is to be completed by all means to avoid shopping above the budget. Anyway, according to Quadrant information, drivers should pay an average cost car insurance in Massachusetts of $1,298 per year for full coverage of car insurance of approximately $108per month. For those who choose the minimum policy, they have to pay an average coverage of $450 per year, or about $37 per month. It is an affordable cost, but there is always a possibility to pay less, and this does depend on individual factors related; some of which are gender, age, driving records and more.
1.Hanover
Hanover insurance group is a good company which provides a long list of extra car insurance policies with option to add more whenever possible. It has been established since 1852, and is operational in about 28 States in U.S. including California, Massachusetts, Texas and New York. It provides for car insurance in Massachusetts customized policies with competitive prices. Its customer service is one of the best with active independent agent working 24h/7 to cover client needs either online of face to face. It provides one of the cheapest average minimum coverage in the State with significant difference compare to the normal charge. Some of its important coverage are new car replacement, deductible dividends, Roadside assistance, and more.
Learn more: https://www.hanover.com/individuals/products/auto-insurance
2.Amica Insurance
This is another least known group but which does perfectly well in the insurance market. It provides an exceptional customer service for car insurance in Massachusetts and other States where it is represented. It's been rated with great score for that purpose and is continuously doing well through its great coverages and affordable prices. Amica provides an amazing dividend policy for car insurance with possible return discount of up to 20% in customer premium each year. The company also provides several discounts deals such as accident free, full payment discounts, and many more which could help customer increased their savings. Although it does propose good customer services its rates are usually quiet high compare to the state rate.
Learn more: https://www.amica.com/en/products/auto-insurance.html
3.Geico
It is ranked with largest insurance group in the country, proposing amazing service through its various network and agents working closely with customer to provide the best service possible. Its financial strength is one of the best as well, offering possibility to cover any claim at any time. Geico proposes the lowest insurance annual premium coverage for car insurance in Massachusetts with a considering reduction compare to the state cost. Its online services are also highly rated because of their multiple options, giving the possibility for clients to get every need completed at any time and from anywhere. It proposes a wide range of discounts such as federal employee discount, good driver discount, multi-car discounts and many others.
Learn more: https://www.geico.com/information/states/ma/
4.Progressive
Different reviews of progressive insurance from customers, average cost data and more do show that it is rated with a score of 4 out 5 for overall best for high risk drivers. It is one of the largest car insurance ranked at the third position with good financial background. If you are looking for a car insurance in Massachusetts with good customer service, here comes progressive with a good policy offering unforgettable customer experience. It provides good optional coverage such as gap insurance, ridesharing coverage and custom parts coverage for auto parts replacement. Customers can also be eligible to various discounts such as online application discount, good driver discounts and more.
Learn more: https://www.progressive.com/answers/massachusetts-car-insurance/
5.Allstate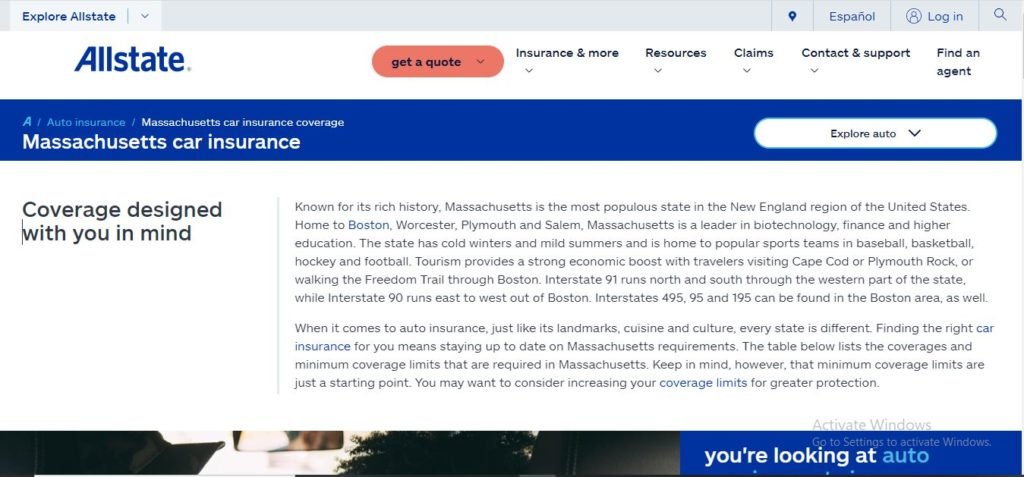 It is one of the most recommended insurance company for its average coverage with below-average score in various categories, and its presence in almost all in the list of cheapest insurance companies in most of the States. It provides one of the most incredible customer service for car insurance in Massachusetts, with additional telematics program which assists in adopting safe driving habits with chances of gaining important discount package. It proposes an affordable average minimum coverage approximately $100 less than the state usual cost. Its online tools and mobile are also good asset for its prosperous reputation and keen service given access to amazing savings cost. Customers are eligible to important number discounts.
Learn more: https://www.allstate.com/auto-insurance/massachusetts-car-insurance-coverages
Read Also: Best and reputable car insurance in Hawaii for 2022, Most affordable car insurance in Maryland 2022, Most affordable car insurance in Maryland 2022, Best Car insurance in West Virginia 2022, Best Car Insurance in Maine 2022