Due to low population density, car insurance in Maine tends not be expensive. The average cost for minimum coverage policy is $452 per year, that is nearly $37 per month, as for the full average annual coverage it is approximately $1,245 per year, that is quite low compare to the national Rates. This can be event less, considering that every company will provide different coverage rate depending on factors related to the individual, some of which are gender, age, driving records. Anyway, it is the task of car owner to work out the different proposed rate to find the convenient car insurance.
1.Geico
Well-known for all, it is an experienced insurance company with well reputable for its financial strength as well as its good coverages. It usually tailored its policies to fit customer needs. It seems to have done the same as a car insurance in Maine; it provides best overall rates with an affordable minimum average coverage lower as $255 per year, this is an interesting policy for all. This advantage does provide client possibility of shopping around the budget with important savings. But the inconvenient comes from the fact that, there is no discount for premium coverage pay in full. But people can still obtain discounts from bundling insurance policy, multiple cars policy or accident free discount if there has been no reported case for 3 to 5 years.
Learn more: https://www.geico.com/information/states/me/
2.Concord Group
It is an appealing insurance company present in about 4 States in U.S. including Massachusetts, New Hampshire, Maine and Vermont. It build its reputation through multiple independent agents working on the field 24/7 to help people insure their properties. Concord car insurance in Maine is a good company offering interesting rate for different categories. Good drivers do benefit for its second lowest annual rate paying almost 45% less than the State rate. Its average annual rate for drivers with speeding ticket is the cheapest of the group, it is the same for teen drivers as well, who do pay the lowest rate with Concord group providing a contrast of almost 25% with the State actual cost.
Learn more: https://www.concordgroupinsurance.com/
3.Allstate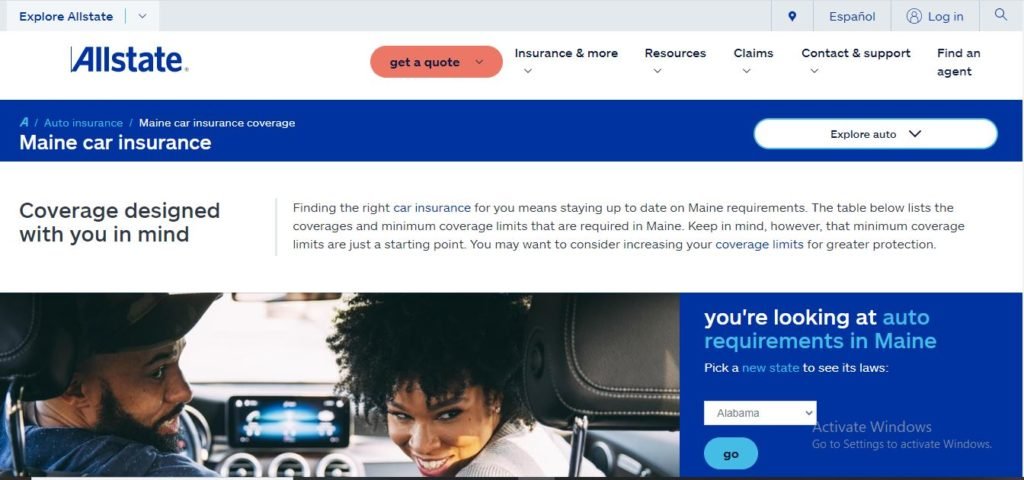 It is a very popular company, usually known to be commonly the last of cheapest insurance in most of the States. Its rates are either closer or more than the State cost, with a slight difference. Its presence as one of the best car insurance in Maine is justified by its high rated customer service providing great support at all level. The user satisfaction rate is one of the best here, with absolutely no complaint. It provides a good rate for students and young drivers in Maine with good saving possibility, considering that it proposes for the same, important discounts, for driver's students as well. The only inconvenient with Allstate is its higher overall rate for full coverage and minimum coverage as well.
Learn more: https://www.allstate.com/auto-insurance/maine-car-insurance-coverages
4.State Farm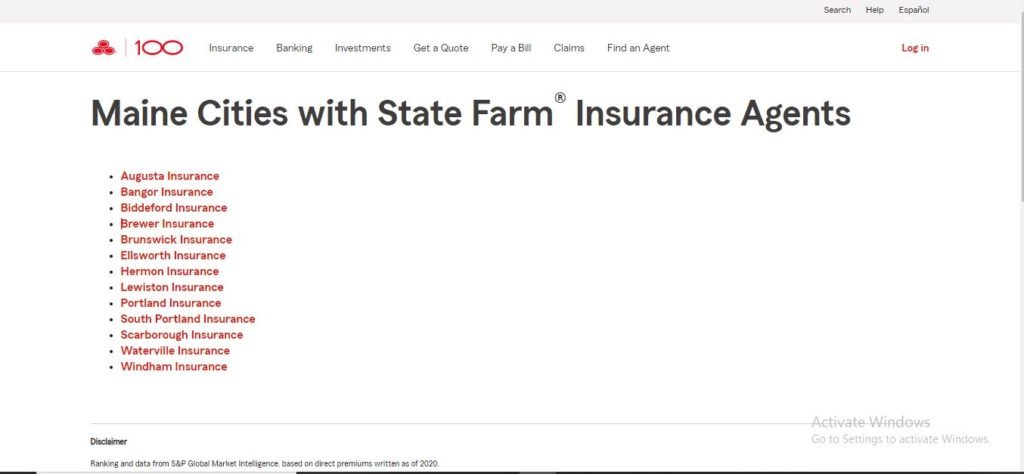 Always present among the best, it is a well-appealing name for all, for its extended presence all over U.S. proposing quality services and interesting insurance rates. It does the same in Maine, offering client opportunity to grasp their convenient policy and gain from discounts at all. State farm car insurance in Maine is the best for driver with poor driving record providing them with the most affordable annual coverage which is about $720, surprisingly lower than the State cost for the same. These drivers also gain from the roadside assistance, and car replacement option it offers. It provides the lowest annual coverage for driver with DUI as well, allowing them to pay as much as 50% lesser than the State normal average for the same.
Learn more: https://www.statefarm.com/local/maine
5.MMG Insurance
With an extended representation to few states including New Hampshire, Vermont, Maine Pennsylvania and Virginia, this company has evolved with the same superior service to an incredible prospering insurance corporation with quiet enough to satisfy everyone. It is well-known for its quality service and good policies which allow customers to gain more credit leading to low premium coverages. MMG propose a wide array of car insurance in Maine to help everyone sleep stress free. Some of its important benefits include auto loan or lease replacement coverage, enhancement of new car replacement available for new model year vehicles, and above all, it is the cheapest for parents adding teen in their insurance policy.
Learn more: https://www.mmgins.com/personal-insurance/automobile-insurance/
Read Also: Least expensive car insurance in Indiana 2022, Best Car Insurance in Washington 2022, Best Car Insurance in Oklahoma for 2022, Most Affordable Car Insurance in Kentucky 2022