Rates of car insurance in Kentucky are quiet higher, and that can really be stressful for everyone, especially drivers. The main concern is to have a car insurance company with affordable costs and good policy. It is important to know that, the average cost for car insurance in Kentucky is $1,030 per year, or $83 per month for minimum liability insurance. Moreover, the average cost of a car insurance is $2,128 per year, quite costly, compare to the national amount. However, there are ways to move across this higher average, considering the factors that impact on car insurance in Kentucky. You can find here some of the good choices, selected factors wise with convenient rates.
1.State Farm
It's a well-known largest insurance company in US, with extended branches all over the country. It's got a strong financial base; hence, can be helpful at all level. State Farm car insurance in Kentucky is not only popular but works close to people, a substantial prove is its important number of representatives and local agent working every day with population providing quality service. Its presence online does facilitate the access to car insurance quotes proposing standard coverage. It's a great choice for drivers with prior accident case, as it proposes the lowest coverage rates, and this value does not vary compare to other competitive company.
Learn more: https://www.statefarm.com/local/kentucky
2.Kentucky Farm Bureau
It is also a good company, providing interesting rates. Farm bureau car insurance in Kentucky is available for farm bureau members only; becoming a member is an easy task. This company has strong financial base and offers very good advantages for its members. For example, its average annual coverage premium is the lowers with significant reduction compare to the State coverage and members do have possibility to receive discount for that. It provides the second least expensive coverage for drivers who have got speeding tickets and also for drivers with prior accident case, who have to pay about 15% less than the state normal cost for the same.
Learn more: https://www.kyfb.com/insurance/insurance-products/automobile/
3.Geico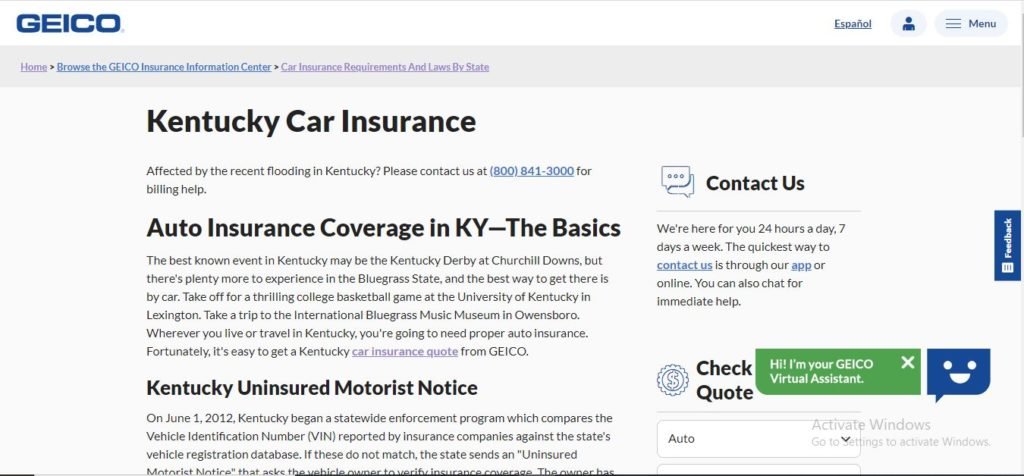 It is also a very famous enterprise dealing with insurance. It is present in all the 50 U.S. States delivering car insurance through local agents. Geico car insurance in Kentucky is one of the best, considering its quality service and long term experienced in the domain. It is having a good average annual coverage rate which might not be the lowest but, is smaller than the state average. It is quite beneficial for teen and young adult drivers who are charged with the lowest average annual cost of the considerate list with amount significantly reduced compared to the State charges. Drivers with poor credit who have chosen Geico in Kentucky do pay 25% less than the normal State average cost. Geico provides a wide range of discounts as well.
Learn more: https://www.geico.com/information/states/ky/
4.Travelers
It is another large insurance group represented in 42 States of U.S., offering quality service through its independent agents. It also has a good financial stability, hence amazing reliability rate. Its presence as a good car insurance in Kentucky is justified by its affordable policies with affordable average annual coverage considerably lower than the State rate. Senior drivers are well rewarded here with the lowest annual average coverage, with possibility of obtaining a discount for people who do provide safe driving records. This company comes also with the second cheapest rate for young adult drivers who will have to pay approximately 50% less than the State rate. It also offers important discount and possibility for new car replacement coverage.
Learn more: https://www.travelers.com/car-insurance/state-coverages/kentucky
5.Progressive
It is another exceptional insurance company, present in all States, with possibility of coverage in other country if you are to travel for short term. It might have the highest average full coverage premium between car insurance in Kentucky, but this is worth considering its advantages in other aspect. Its website is well furnished allowing customers to get his personalized rate and compare to other competitive insurance company for a wiser choice. It is a good choice for drivers with prior accident case or good drivers who are having lower annual coverage as well, even though it might not be the most inexpensive, still it is lower than the state rate with considerable difference. Like other companies, it does provide important range of discounts.
Learn more: https://www.progressive.com/answers/kentucky-car-insurance/
Read Also: 06 best Car insurance in Tennessee; Best and Cheapest car insurance in Virginia 2022; Best Car insurance in Pennsylvania 2022; Cheapest Car Insurance in Louisiana 2022