Chicago is the third most populated city in the United State following New York and Los Angeles. The average rate for car insurance in Chicago is approximately $1,710 per year. That is more expensive than Illinois normal average which is $1,303, this being the State where Chicago is found. It is also more expensive than the national average cost which is about $1,550. The problem now is to get a car insurance with affordable rates that will protect the customer while given possibility for saving. The choice of good car insurance company in Chicago depends on different factors including age, gender, driving records and many more. The following are examples of companies providing good insurance rates in Chicago.
1.Geico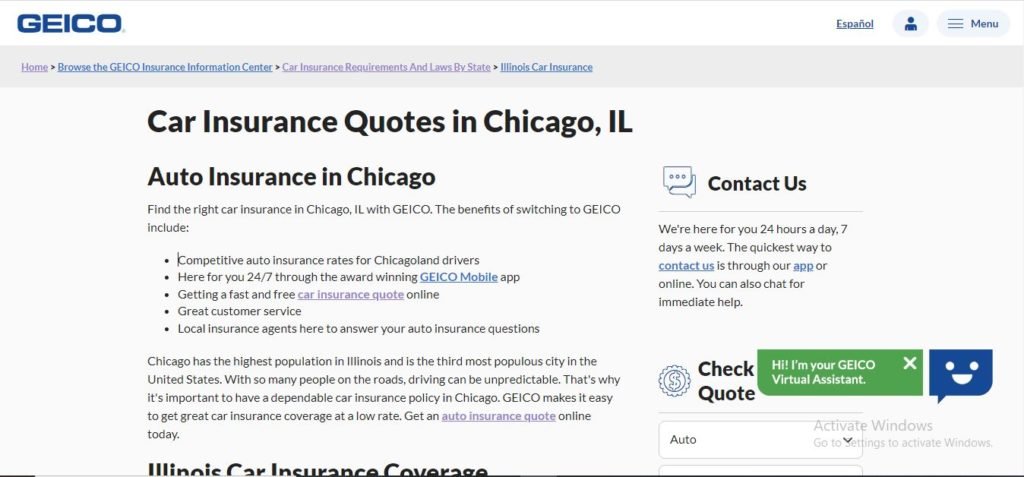 It is considered as a national company offering coverage all over U.S.. Geico is the best car insurance in Chicago for adult drivers, providing the cheapest minimum coverage which is approximately $368 per year. Its average annual full coverage is also the lowest in the city compare to that of some appealing competitors. It also stands with an excellent customer service providing the 24/7 availability for client support. This company might not be the best in providing customized policy but it offers some interesting add-on coverages such as road assistance plus towing, rental car reimbursement and accident forgiveness, mechanical breakdown. It also provides huge number of discounts including federal employee discount and more.
Learn more: https://www.geico.com/information/states/il/chicago/
2.Country Financial
It is usually well rated at the national level, because of its good score for third-rating and the wide range of coverage options it does offer. Its financial stability is one of the most appealing providing quality assurance and reliability. Country offers is the overall best car insurance in Chicago offering high grades for affordability, customer satisfaction and full coverage policy which seems to be the lowest with an annual average of $1,020 yearly. It provides some extra coverages such as portable electronics coverage, media coverage, glass deductible coverages. Drivers with good records do benefits from its cheap annual coverage rate which is the lowest. It does offer few discounts such as good student discount, driver education discount and more.
Learn more: https://www.countryfinancial.com/en/about-us/who-we-are/where-we-do-business/illinois.html
3.Erie
Erie is ranked amongst the largest insurance in U.S. in term of revenue, even though its rate for this particular criteria is not the best, there is an appealing improvement which will surely pay in future years. It is a good company with strong financial base, providing quality car insurance in Chicago. It does offer important number of coverage in its standard policy some of which are personal items coverage, pet coverage and many more. It is also a good option offering the second lowest minimum coverage, an aspect to be considered when choosing the right car insurance. Young drivers are the most favorite in this company, taking into consideration that, it provides lowest average rate, conditions wise.
Learn more: https://www.erieinsurance.com/contact-erie/locations/illinois
4.USAA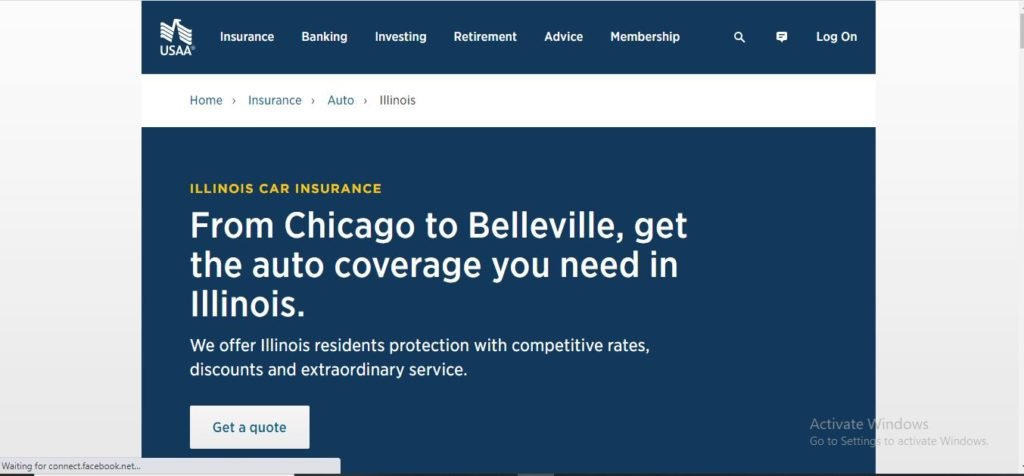 USAA usually spots out of best car insurance companies because of its highest rate in customer service. It is known to be the cheapest as well, proposing competitive rates generally lower than the state rate everywhere in U.S.. The inconvenient with this insurance is its exemption to other social community, it is a company made specifically for military and their family relatives. However, talking about its advantages as car insurance in Chicago helps in making the right choice. It provides the cheapest coverage policy for adult drivers, who do pay nearly $875 yearly. It offers wide range of optional coverages providing important discounts, such as safe drivers discount, new cars discount, defensive drivers discounts, loyal customer discount and more.
Learn more: https://www.usaa.com/inet/wc/illinois-car-insurance?akredirect=true
5.Oxford Auto Insurance
This is an insurance broker which has been operational for over seven decades now, offering quality service, with low level of complaints. It provides customers with overall low rates and good satisfaction. Oxford works tightly to provide clients which good car insurance in Chicago and other cities where it is available. It does offer coverages including roadside assistance, tow truck insurance, ridesharing insurance, Business use insurance and other. Its standard policies include monthly payments as per customer affordable need, possibility for setting liability limits, comprehensive and alternative insurance plans, choice of policy renewal, online processing and more. The inconvenient for such company is the fact that customer does deal directly with the insurance provider.
Learn more: https://www.oxfordauto.com/auto-insurance/car-insurance-chicago/
Read More: Best car insurance in USVI (U.S. Virgin Islands) 2022, Best car insurance in District of Columbia 2022, Best car insurance in District of Columbia 2022, Best car insurance in Rhode Island 2022, Best car insurance in New Hampshire 2022