The average cost for auto insurance in Mississippi is $490 per year for minimum coverage and the full coverage is approximately $1,780 per year, a cost which is considered more expensive than the National cost. However, car owners in Mississippi should be stress free as they do have possibility to gain good average from insurance companies providing affordable and important numbers of discounts. The different rate varies seriously criteria wise, meanwhile; it is important for everyone to go through companies quotes conditions wise to find the corresponding one. Part of this tedious task has been done and here some common examples of Auto insurance in Mississippi that provides good if not affordable rate for all.
1.State Farm
It is a world reputable insurance company with appealing financial stability, quality standard service and above all, good rating score for providing customer with comprehensive policies. State Farm auto insurance in Mississippi stands at the top of the most affordable with the second least expensive annual estimated coverage with a minimum amount closer to that of USAA which is the lowest but is exceptionally designed only for military and their families. It provides the lowest annual average coverage for drivers with DUI, a case which is exceptionally appreciable knowing that, most of the companies in the state usually provide an additional percentage for drivers under this situation; state farm provides a good difference with state rate for the same.
Learn more: https://www.statefarm.com/local/mississippi
2.Alfa insurance
It's a company less popular compare to the above one, probably because of being present only in States such Alabama, Georgia or Mississippi. It might not be present everywhere in US but Alfa Auto insurance in Mississippi is a good corporation which has built its base over the year on aspects such as mobile applications, various coverage options, average premium, good financial rating from well recognized financial experts, and above all satisfaction of user as claimed by J.D Power evaluation. Its quality service remains above all, its top advantageous asset. It does provide important discounts including young driver discount, driver training discount, occupational discount for educators, military, government employees as well as farmers.
Learn more: https://www.alfainsurance.com/mississippi
3.Direct General
It is a good company as well with quality service, good financial foundation and above all, interesting rates that surely satisfies number of people. Direct General auto insurance in Mississippi is well appreciated for its convenient rate in most if not all criteria. For example, good drivers who usually pay lower price with accident and claims are in good position with Direct general because it provides for this category, the second cheapest annual estimate average with almost 25% difference with the State cost. It is also the better option for drivers with prior accident leading to injury or drivers with DUI who are charged with an amount which is far less than the normal rate in the State. So is the case for young drivers who pay less.
Learn more: https://www.directauto.com/learning-center/states/mississippi-car-insurance-guide
4.Nationwide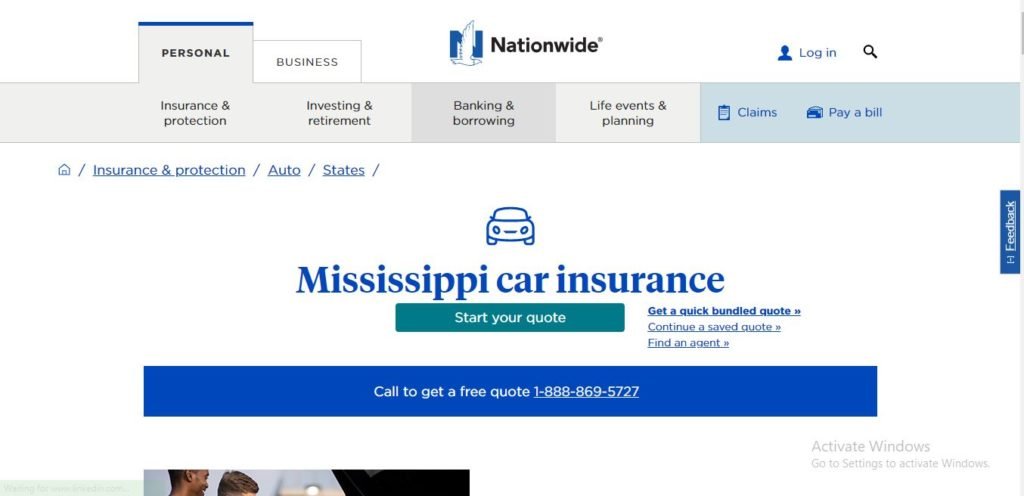 It is a well-represented companies, popular, strongly established with impressive quality service and good rates above all, very low level of complaints. Nationwide auto insurance in Mississippi is well apprehended for its good estimate average in case of parent wishing to add their teen drivers in their insurance, it provides for this case not only low increased rate but also an affordable annual coverage which is about 50% lesser than the State average cost. Nationwide provides a monitoring policy which is quite interesting for driver with low-mileage, because, they will be paying only the consumed mileage and they are eligible for good discount for safe driving as well, but that won't be convenient for those driving regularly.
Learn more: https://www.nationwide.com/personal/insurance/auto/state/mississippi/
5.Farm bureau
It is the largest general organization, with focus on providing good deals for auto insurance in Mississippi. Even though most of its benefits are limited to members, it remains an opened organization providing that everyone can join and gain from the amazing discount prescribed by this policy. Farm Bureau does provide most of the standard coverage including comprehensive coverage, medical coverage, collision coverage and others, but its most important advantage is for Mississippi drivers who have access to incredible low rates. It offers an average annual coverage which is the third lowest with huge contrast with the State rate and also young drivers are beneficiary of lower annual coverage compare to the State value.
Learn more: https://msfbins.com/products/auto/
Read Also: Cheapest Car Insurance in Louisiana 2022, The cheapest auto insurance in Georgia 2022, Affordable Auto insurance in Kansas 2022, Best Auto Insurance in Colorado 2022