The average annual cost for full coverage of car insurance in Nevada is $2,246, costly when you know the average premium in the US is $1,674 per year. This expresses the high standard of lifestyle in Nevada. Getting an affordable car insurance in Nevada is therefore really challenging. However, it is good to know that Nevada requires that automobiles liability insurance policies should carry a minimum coverage 25/50/20, that is $25,000 for bodily injury or death per person and per accident, $50,000 for bodily injury or death of two or more individual per accident, and $20,000 for injury for destruction of property per accident. These figures constituted a beginning for the search of a convenient car insurance company whose quotes correspond to your needs with good saving possibilities as well.
1.State Farm
Quiet famous and present in almost all the states, State Farm car insurance in Nevada offers competitive rates in some levels. For drivers with speeding ticket, it is the most recommended car insurance in Nevada as it offers an affordable annual rate of about $1,520 least expensive than others. It is also advantageous for drivers with poor records, for example, a driver with recent accident can obtain an interesting quote from state farm. Its annual rate for this particular aspect will guarantee a possibility for good saving. State Farm has an incredible longtime experience in insurance industry, this is justified by its quick policy management and claims enable by its highly rated mobile application.
Source: https://www.statefarm.com/local/nevada
2.Geico
Geico car insurance in Nevada is the best choice, especially for good drivers. It does offer the cheapest rate decreasing by 30% compare to the sate rate. Even though it doesn't offer important gap insurance, it remains the second large company in the US with good reputation and an interesting overall rating score. Geico is also well graded because of its good financial strength and an appreciable overall annual rate which is less in Nevada State. It was also rated with convenient score by J.D. Power for customer satisfaction proof of its quality support and availability for inquiries and completion of various needs. It also provides important range of discounts.
Source: https://www.geico.com/information/states/nv/
3.USAA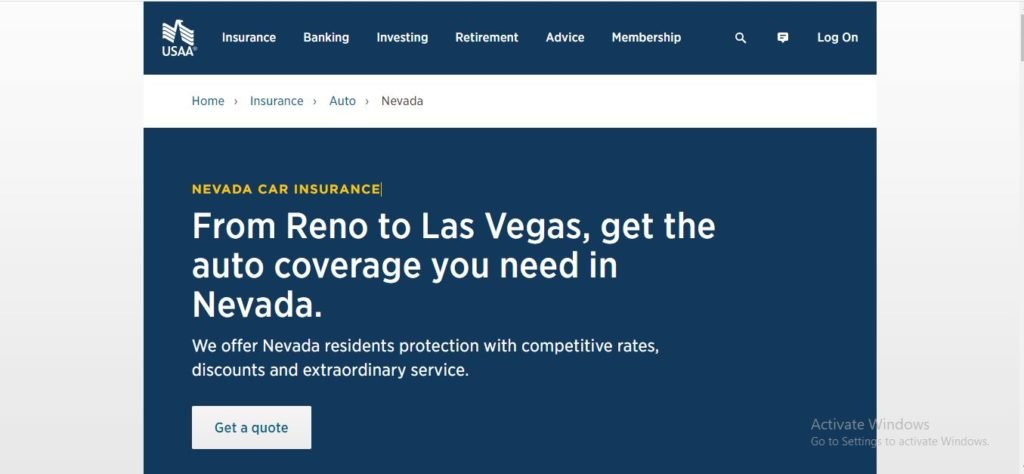 Very present in most of the cheapest insurance list, USAA car insurance in Nevada is a good insurance company with the only inconvenience that is dedicated for military members and their families. It appears to be an interesting choice as it's got a highest score for customer service and quality supports. The wide range of cheap rate is also an advantage coupled to its numerous discounts which make USAA an eligible choice for lower expenses. Some of its most appealing expenses include Rental reimbursement, accident forgiveness, Glass coverage, Guarantee assets protection and Car replacement assistance.
Source: https://www.usaa.com/inet/wc/nevada-car-insurance?akredirect=true
4.Travelers
It is the best choice for new car replacement. Travelers car insurance in Nevada might be good for car replacement but does not have good offer for better car specifically. Its customer rate is not the best in the list, as it received score of about 3.5 out of 5 for customer satisfaction. However, its score rate for car claiming is one of the most appreciable. The reason being possibilities for good choice yielding important saving opportunities. Some of its multiple discount include student discounts, multiple vehicle discounts and discount for bundled home and car insurance.
Source: https://www.travelers.com/car-insurance/state-coverages/nevada
5.Key Insurance
Key insurance might not be the least expensive the nor the most appealing car insurance in Nevada, but its presence in the current list is justifiable. It stands at the third position of car insurance companies with cheap average annual rates for drivers with poor credit in Nevada. The important rank is made possible by its most affordable rate which is less than the state average rate with a difference of almost $2,100, a considerable amount for someone who is looking for car insurance with important saving opportunities. It is also quiet recommended by Forbes advisor, even though one of its relevant inconvenient might be least or no good information available in their official website or also transactions of products which are being done by independent agents.
Source: http://www.keyinsco.com/default.html
Read Also: 06 Least expensive Car Insurance in Arizona, 05 cheapest Car insurance in New Mexico, 05 Best and Cheapest Auto Insurance in Um Al Quwain