It is always amazing to explore the immense range of vehicles produced by the Japanese automaker Toyota. The Toyota Highlander is one of the best production of the year with good hybrid estimate mileage, quality interior and good towing capacity. It is a three-row mid-size crossover SUV which has come out this year with appealing modification in different aspects just for you. The Toyota Highlander is classified with appreciated SUVs such as the Kia Telluride with its high quality interior, the Chevrolet Traverse, ford explorer, Volkswagen Atlas or the Honda pilot. Among these models, the Kia Telluride seems to be closely related to the Hyundai Palisade with its rock and roll features just as does the Ford explorer. The Hyundai palisade is a three-row SUV as well with a lot to offer in terms of space, performance, and trim levels.  Moreover, it seems to be a model with appealing safety tools, hence a safe car for all.
  Toyota Highlander 2021 best in fuel saving
The Toyota Highlander is a smart SUV fully redesigned for the 2021 version, and bringing a new trim model to complete the list.  It has six trim models comprising; L, LE, XLE, limited, Platinum and the newly introduced Sporty trim XSE. All these trims come standard with an overall interior rating of 7 out of 10. The Toyota Highlander has a larger interior which offers 7 to 8 seating spaces in standard models, a fact which made it a crossover with wide interior. You can find inside the Highlander 2021 comfortable leather trimmed seats with heated and ventilated front. Further tools include Premium Audio, standard tri-zone automatic climate control, standard Android Auto and Apple CarPlay smartphone connectivity and available wireless device charging. All the models of the Toyota Highlander are equipped with 3.5liter V6 engine, releasing 295-horsepower making an overall 263lb-ft of Torque. This engine has an 8-speed automatic transmission, with front-wheel drive with the All-wheel drive being optional in every trims. The fuel saving capacity of the SUV is the most important fact, as it is capable of travelling for quiet long distance on gas mode enhancing a convenient saving. With a 17.9 gallon and on the gas mode, it drives approximately 520 highway miles on a full tank of gas, an amazing performance which should be considered.
Hyundai Palisade 2021
 The Hyundai palisade is another mid-size 3-throw SUV offering up to 8 seating spaces, which are quiet comfortable. Its excellent crafted inside delivers world dream design with remarkable materials which are really affordable. It has a luxurious interior made of nice tools which comprise the Heated front seats and steering wheel, plus ventilated front seats, driver integrated Memory System, three-zone climate control, quilted Nappa leather, proximity keyless entry with push-button and Seven USB outlets. The palisade also performed well with its 3.8liter V6 gasoline engine which produced 291 horsepower and 262 lb-ft of Torque, performance which are quiet close to that of the Kia Telluride. An assurance about the Hyundai Palisade is the ample power provided by its engine combines to its solid acceleration. Hence, it offers a smooth drive even over rough roads and its quiet easy to handle.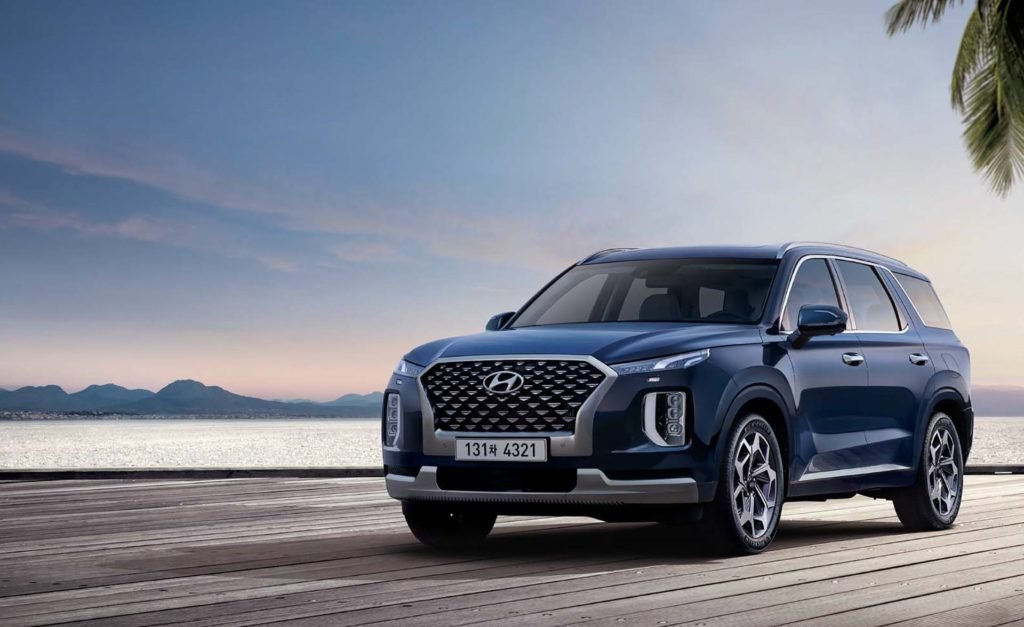 The best fuel saving Toyota Highlander Vs Hyundai Palisade
Unlike the Toyota Highlander 2021, Hyundai palisade has four power trim levels namely SE, SEL, Limited and the Calligraphy Highlights. The starting price of the former is nearly $34,810 a little bit higher than that of the latter with $32,525 as base price, an average price of midsize SUV class. In terms of performance the Highlander 2021 seems to perform well with its excellent fuel saving capacity which brings its EPA estimate to 24 combined mpg, that is 21mpg city and 29 mpg highway, these values are more ameliorated in the All-wheel drive model with 36mpg city, 35 mpg highway and 36 combined mpg. Whereas in the case of the Hyundai Palisade, you have an EPA estimate 21 combined mpg, with 19 mpg city and 24 mpg highway. A closer look provides that the fuel efficiency of the palisade is average with about 11.9l/km in the city, an aspect that clearly demonstrate the quality performance of the Toyota Highlander over the palisade in this aspect.  But that doesn't subtract anything to the high quality model of the Palisade with better safety rating. Moreover, the palisade offers more cargo room behind the third row compare to the highlander with only 16 cubic feet of space.
Source: https://www.toyota.com/highlander/, https://www.hyundai.com/worldwide/en/suv/palisade/highlights,
Read Also : KIA Telluride 2021 Attractive design,