In UAE in general, you can't drive without insurance. In order to obtain this important vehicle document, citizens consult car insurance companies in Dubai of the multiples dealers which operated in this domain. The following script will provide few notes on those organizations, while focusing on their main services and customer satisfaction.
1. RSA car Insurance company in Dubai
With RSA standing for Royal Sun Alliance, this RSA car insurance is among best insurance companies in Dubai city. Founded in 1956. Later in May 2021, it was acquired by Danish insurer Tryg and Canada's Intact Financial Corporation. The RAS insurance offers attractive vibes including; accident and recovery breakdown services, about 50% no claim amount online, 10% online discount for customers, the last but not the least is free courtesy car with executive plus cover.
A fact that surprised more than one is the over 9 million votes of confidence, huge significance considering the fact that this is worldwide. A recent news also shows that, RSA is usually well rated by Dubai customers; the rate being between 4.5 to 5 stars which is an amazing fact justifying its position among the most valuable insurance group in this city.
Website: https://www.rsadirect.ae/car-insurance

Sales: 800 772

Address: 8th Floor, Burj Al Salam, Tower No – 2 Sheikh Zayed Rd – Dubai
2. AXA Gulf car Insurance company in Dubai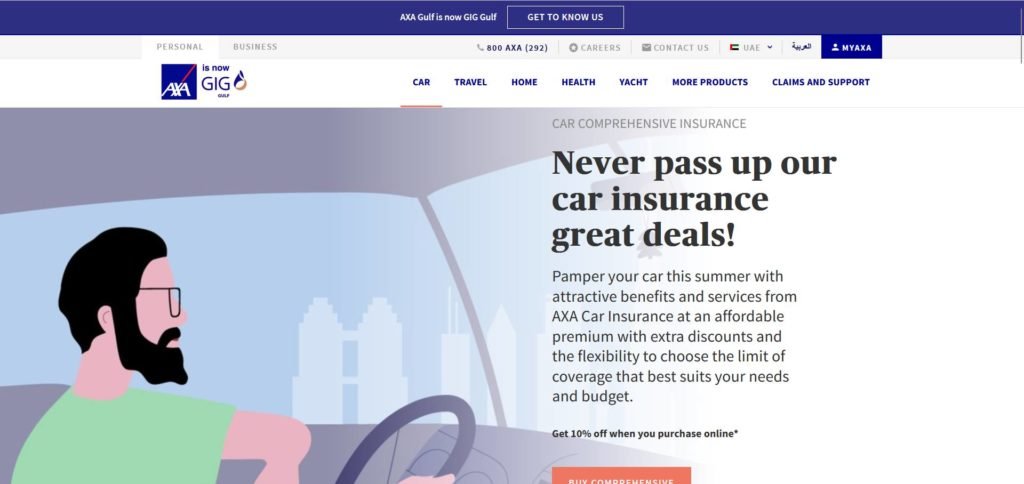 It is also one of the best car insurance company in Dubai. AXA is a French multinational insurance company. Initially created 1816 as "Mutuelle de l'assurance contre l'incendie", it acquired in 1978 "Companie Parisienne de Garantie" and became "Mutuelles Unies".
It has gone quite far, and will soon bear the name GIG Gulf insurance in UAE as per the recent news. AXA Gulf offers protection for you and third party personal injuries.
It also provided off-road coverage, Road and Transport Authority inspection and registration on behalf of the customers and 24/7 road assistance. These benefits are slightly satisfactory as per some customers which has led to a rating of 4.5 star as per recent reviews. It also offers a 10% online discount for customers, like in the case of the RAS insurance.
Website: https://www.axa.ae/personal/products/car-insurance

Phone: 800292

Address: Showroom #4, Um Al Sheif Building, Plot #514-0, Makani #19694 80701, Next to Metropolitan Hotel, Um al Sheif, Sheikh Zayed Road, Dubai
3. Dubai Insurance
Founded in 1970, it is one of the first locally car insurance offering variety of services. Nowadays, it is well represented and seems to satisfied the need of its probable 500 million customers. It does provide car insurance such as Coverage of car insurance policy to protect privately owners against damage by accident, coverage for legal expenses against the third party for injury, accident by collision, Malicious acts, damage or loss during transport, theft, external damage and many more.
In addition, there is a coverage for third party risk as well. The overall process for car insurance in the Dubai Insurance is the different packages offered which included; the Dubai Insurance Silver with minimum legal insurance; the Gold Comprehensive car insurance package with additional two years' agency repair coverage, the last option is the Platinum Comprehensive car insurance package which has an additional medical emergency expenses up to AED 5,000.
Website: https://www.dubins.ae/beta/car

Phone: +971 4 2693030

Address: Dubai Insurance Head Office Al Rigga Road, Deira, P.O Box 3027, Dubai – UAE
4. Oman Car Insurance
This exceptional insurance company was established in 1975. It has served in Dubai for about 46 years now. It is classified among the best car insurance company in Dubai in particular and UAE in general.
It does have other branches all over UAE and other countries such as Oman and Qatar. It offers two important types of car insurance including; Third party liability of damage loss or comprehensive motor insurance plan and Personal accident benefit coverage.
That might not be much satisfactory compared to the support of some competitors, but Oman car insurance does remain one of the most experienced group with high profile professional staffs. A criterion which surely play a role in its classification among the best. Added to this, is the exceptional privilege motor plans for luxury vehicles with important coverage.
Website: https://www.omaninsurance.ae/

Phone: +971 4 233 7777

Address: Omar Bin Al Khattab Street, Next to Al Ghurair Mall, Deira, P.O. Box 5209, Dubai, United Arab Emirates
5. Dubai National Insurance and Reinsurance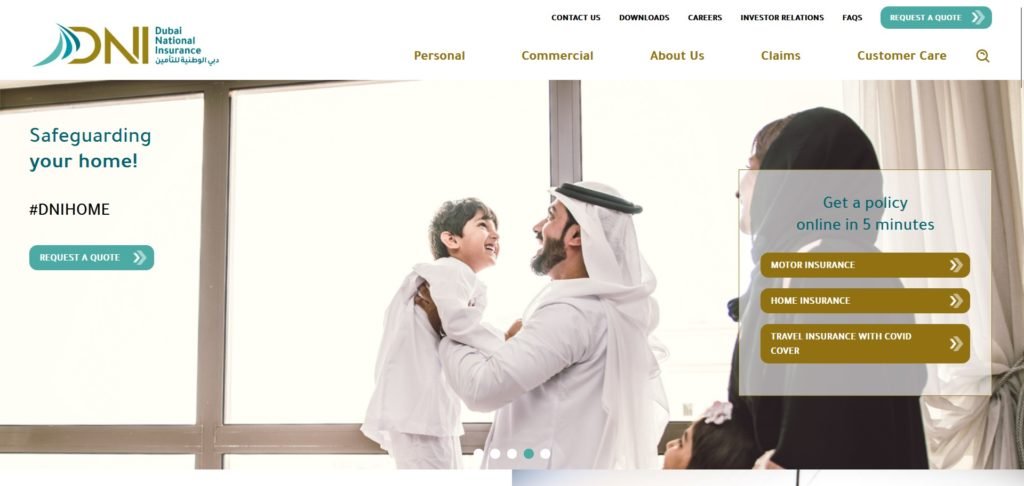 It is a public organization founded in 1991. It is among the relevant insurance company in UAE with an objective of achieving maximum sustainable growth in support of customer's risk and security. As far as cars are concerned, it works in close relation with leading agencies and garages to provide clients with important supports.
Some of which are Medical expenses, Ambulance coverage in case of accident, off-road coverage, personal benefits to driver and passenger, Agency repair, third party liability and many more. It is indeed one of the leading car insurance company with an overall satisfactory plan.
Website: https://www.dni.ae/

Phone: 600 5 80000

Address: 7th & 9th Floor, Opposite to Deira City Centre, Port Saeed، Baniyas Road, Deira – Dubai
| | | | | | |
| --- | --- | --- | --- | --- | --- |
| Element of comparison | RAS car insurance | AXA Gulf Insurance | Dubai car insurance | Oman car insurance | Dubai National insurance and Reinsurance |
| Rating in the market | 4.5 to 5 star | 4.5 star | 4 star | 4.5 star | 4.5 star |
| Benefit rating | Remarkable | Remarkable | Good | Good | Remarkable |
Few Remarkable aspect
A look at this simple table of comparison and many other elements which are not include here placed the RAS insurance; Oman insurance group and the AXA Gulf insurance at the top in Dubai city followed by Dubai National insurance and Reinsurance and Dubai Insurance. We will surely look into other companies dealing in the same domain.