If you are imagining a car with sharp handling and purposeful design, consider the Volkswagen Taos. It is a compact SUV delivering all style, and enough argument to support the powerful German engineering. This compact crossover is full of strength and ready for challenging any road obstacle. It might not offer that much space as in the Volkswagen Atlas, but it has an interesting strength coming for its turbocharged robust engine. This Upcoming models will surely get at the top to stand stylish models such as the Chevrolet Trailblazer, the Mazda CX-30, Jeep Compass, or Toyota Rav4. The Chevrolet Trailblazer seems to be closer to the Taos, with an impressive exterior tools and also offering enough space. This is a fully loaded Crossover with an AWD, with multiple trim levels and more than enough specs to convinced car riders.
Volkswagen Taos 2022
Announced to be out by mid spring 2021, the Volkswagen Taos has got a full redesigned. It has the same exterior dimensions with performant SUVs such as the Kia Seltos or the Subaru Crosstrek, but differ a little bit with its larger side Segment. The Taos is however smaller than other Volkswagen SUVs lineup such as the Volkswagen Tiguan. The Volkswagen Taos is equipped with a front diamond-like grille separated by horizontal aluminum allow frame carrying the amazing logo at the center. The list is completed by a 17-inch alloy wheels strong enough to support the bunch of heavy features common to most of the German vehicles. This bold exterior is accompanied by an impressive interior, it has a modern aesthetic design with digital cluster fitted to every dashboard and the 5-passenger seats are covered by cloth, not that impressive but shining enough to be considered as best forever for such a perfect vehicle.
Volkswagen Taos 2022 engine, connectivity and safety rating
The Taos is well decorated from inside and offered comfortable drive. This fact is possible due its completed infotainment system with a 6.5-inch touchscreen standard in most trim models, but there is also a possibility of getting an 8-inch touchscreen as well. Other connectivity features are the 8-speaker audio stereo, the SiriusXM Radio, the Navigation, the wireless smartphone charging or the Wi-Fi hotspot. These are supported by a powerful 1.5liter inline 4 engine producing 158 horsepower and 184 lb-ft of Torque. This engine EPA estimate varies considerably with the drivetrain and transmission model; that is for the Four Wheel-drive and for 8-speed automatic the EPA estimate is 28mpg city, 36mpg highway, 31mpg combined, while with the 4Motion All-Wheel Drive 7-speed dual-clutch automatic the rate are 25mpg city, 32 mpg highway and 28mpg combined. This upcoming model might not offer better fuel efficiency like the 2019 model but it is always ready for any road challenge probably because of always being loaded with enough safety system, quiet ameliorated to keep the driver and passengers safe.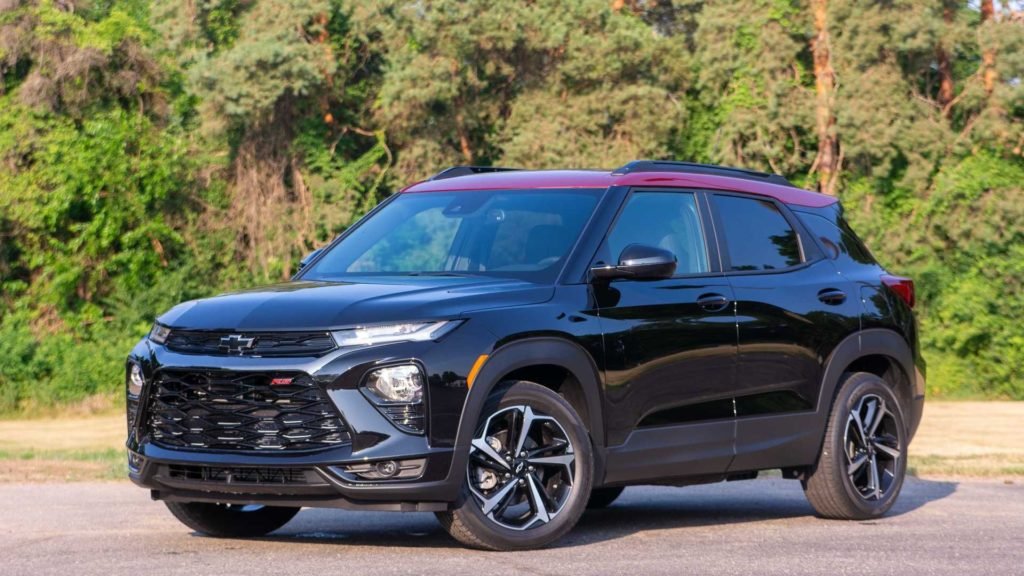 Chevrolet Trailblazer 2021 nice look
The Chevrolet Trailblazer comes with the same exterior quality common to Chevy SUVs lineup. It has a bold body with large front grille, well designed and crafted with an impressive precision. The front eye-like LED headlight is a plus in terms of equipment added to the compact spare tire always present and quite different to everyday tire and designed to be driven for a certain number of miles and on lower speeds.  It is a nice model even though it is smaller, it is cute and distinctive in all aspect. In short, it is such a good vehicle with interesting interior as well. Its interior is equipped with flat-folding seats at the second row, split folding seats with a maximum cargo volume of 54.4 cubic feet. It also has a power liftgate, heated power-adjustable, manual-folding mirrors with body color caps and more others. It has an overall 7-seat with an updated cabin, quiet comfortable for a long drive.
Chevrolet Trailblazer 2021 connectivity, performance
The Chevrolet Trailblazer is indeed a powerful crossover. It has the updated latest infotainment 3 system common to Chevrolet model, with possibility of connecting using Bluetooth, Apple CarPlay, or Android Auto, there is a possibility of using wireless phone tools for connectivity. It has also Navigation design for perfect drive. The SiruisXM is also present used for satellite and streaming listening. The Trailblazer 2021 has two engine options including a turbocharged 1.3liter 3-cylinder engine with 155 horsepower and 174 lb-ft of Torque; a turbocharged 1.2 liter 3-cylinder as well releasing 137 horsepower and 162 lb-ft of Torque. Both engines are combined to standard continuous variable automatic transmission. It has an upgraded system which runs approximately 0-60mph acceleration in 9.4 seconds. In Term of fuel efficiency, the most efficient model is the 1.3liter engine model with a 29mpg city, 33mpg highway. The Chevrolet Trailblazer is considered to be a safe vehicle as it obtained 5 out 5 stars for safety rating awarded by the NHTSA after various tests, it is a confirmation for it safe pack as a safe SUV model.
Volkswagen Taos 2022 vs Chevrolet Trailblazer 2021 disparities
Either the Volkswagen Taos 2022 or the Chevrolet Trailblazer 2021, each model is an amazing crossover SUV with good strength and impressive adaptability. However, there is enough facts to make the difference among these two models.
First of all, the Trailblazer is more spacious than the upcoming Taos, hence more comfortable as well
The Volkswagen Taos will have impressive technology features, furnish sufficiently to offer comfortable and exciting drive
The Taos disappointed more than one with its slow acceleration, lack of standard drive aids, but does assured through its easy driving manners and great highway fuel economy, hence will surely do better again.
Moreover, the Taos also has an active safety tech which is not standard and an All-Wheel drive model dual-clutch automatic
The trailblazer has a middling fuel efficiency compare to the Taos with a highly fuel efficiency
The Trailblazer has good safety features, offers good price, good looks but limited overall features found in most SUVs models.
The Chevrolet Trailblazer has a starting price of $26,028, whereas it is $22,075 for the Volkswagen 2022.
Source : https://www.vw.com/en/models/taos.html, https://www.chevrolet.com/suvs/trailblazer
Read Also : 2021 Toyota Rav4 Hybrid, great performer, 2021 Mazda CX-30 vs the Adventurous Hyundai Kona 2021