Chevrolet Colorado 2021 just like the Jeep Gladiator are competitors of the amazing Toyota Tacoma 2021 . The former is a midsize pickup available with rear or four-wheel-drive and up to five seats, it is offered in extended cab and crew cab body styles. As for the Jeep Gladiator, it introduced its third generation this year with new optional diesel engine. It is an amazing truck with a seven slot grille and impressive design. Both the Chevrolet Colorado and the jeep Gladiator display important features that ranked them respectively at the 10th and 12th position of the best trucks. The following review will provide details on both trucks as well as few pros and cons for a better choice.
Jeep Gladiator 2021
The Jeep Gladiator is a midsize Pick up which looks more like a jeep than a truck. Its appealing design confined an absolute confusion, but straight forwardly it is a mix of both a truck and a jeep. The Jeep Gladiator 2021 is more than just a truck, it is quiet strong, built up to cross any terrain with confidence. It is stylishly authentic and looks more adventurous. The current version is crafted with a trail rated 4×4 solid front axles that delivers exceptional strength, durability and performance; and with the 17-inch Aluminum wheels, it impressively stands the way for perfect motion. Its interior has five seats and comes standard with cloth upholstery and manually adjustable front seats.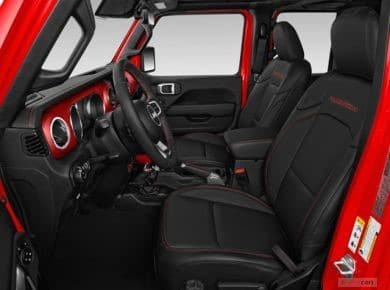 Chevrolet Colorado 2021
The Chevrolet Colorado 2021 is available in four trims LT, Work Truck Z71 and ZR2. It comes with two beds lengths, and is bold with more than enough capability. It offers stellar performance in winter conditions with its amazing ground clearance and four-wheel drive. It has as well ABS, stability control, traction Control that ease driving in snow and winter. The Chevrolet Colorado has 4 to 5 seats depending on the cab model, and the interior in covered with cloth upholstery, synthetic and genuine leather upholstery, with a power-adjustable front passenger seat and heated front seats. The available fronts are comfortably designed with impressive space enhancing an excellent forward visibility.
Chevrolet Colorado 2021 VS Jeep Gladiator
Both Trucks display in one way or another appealing features that make each one unique and or convincible. But here are few facts that really make the difference:
In term of performance, the Chevrolet Colorado 2021 comes with a V6 engine which releases 308 horsepower and 275lb-ft of Torque, hence offering up to 7,700 pounds of towing capacity when equip with a turbo diesel engine whereas the Jeep Gladiator 2021 has a 3.0liter v6 engine producing 285 horsepower combine to 260lb-ft of Torque and about 6,500 pounds of towing capacity.
The Gladiator has been reported to have a transmission issue, but with its good rating performance as far as safety is concerned, it is somehow an interesting truck offering more than enough to please the owner. The Colorado on the other hand, has a predicted reliability rating of 2 out of 5 which is probably below average and doesn't give more confidence.
The safety specs in both is quite impressive and very modernized. The Gladiator for example is equipped with a huge variety of driver-assist features which are standard. Some of which include the Rear Park Assist with sonar sensors located at the back of the truck and which produce audible warning in case the vehicle gets to close to an object. Event thought it is said to have skimmed on safety tools, a particular feature in Colorado, is the fact that all the trim levels are equipped with airbags, but some such as the WT and the LT have cruise Control as a plus.
The price range is undeniable criterion that usually make difference between vehicle, so is the case here. The range for the Chevrolet Colorado 2021 is between $27,100 and $43,200 depending on the trim levels. Whereas that of the Jeep Gladiator 2021 is between $30,537 to $51,573
Source :https://www.chevrolet.com/trucks/colorado, https://www.jeep.com/gladiator.html
Read Also : Toyota Tacoma 2021, 5th best truck of the year, 2021 Ford F-150: What You Should Know,