The average annual cost for car insurance in Michigan is about $2,348 which make it the most expensive nationwide. It is even more difficult as resident has to go through important research to find affordable company for their car insurance and while keeping save shopping habit. However, the change in the State law might have brought some few modification which helps release the pressure offering more chances to get something affordable. The first think to keep in mind is that the law requirement is 20/40/10 for Michigan, and it is a no-fault insurance policy. That is all car owners should have liability coverage of at least $20,000 per person, $40,000 per accident for accident for bodily injuries with minimum $10,000 of property damage recovery.
1.Auto-Owners insurance
It is an appealing name for Michigan resident. Even though it might not be that much expanded, Auto-Owners insurance is a company with impressive rating. First of all, it is considered to be the best of overall car insurance companies in Michigan with good financial stability being rate at 5 out 5 score by relevant reporters, an also its user satisfaction score which is not bad at all. Auto-Au-Owners, offers affordable car insurance policy in Michigan with an average cost of nearly $1,420 which is very low compare to statewide average cost. It also supports client with important discounts including bundling discount and safe driving discount.
Source: https://www.auto-owners.com/about/contact-us
2.Progressive
With an average rating in most of the US states, Progressive car insurance in Michigan tends to be less expensive than ever. It offers affordable rate considering couple of important factors. For example, its estimate annual rate of less than $1,000 for senior drivers of 60 years and above, a rate which permitted a possibility of approximately $1,000 of saving for individual choosing progressive for car insurance. It also provides an attractive rate for drivers with good credit and for good drivers. The last but not the least is its affordable annual rate for individual after speeding tickets and after accident given a reduction of up to 20% compare to the statewide average.
Source: https://www.progressive.com/answers/michigan-car-insurance/
3.Meemic auto Insurance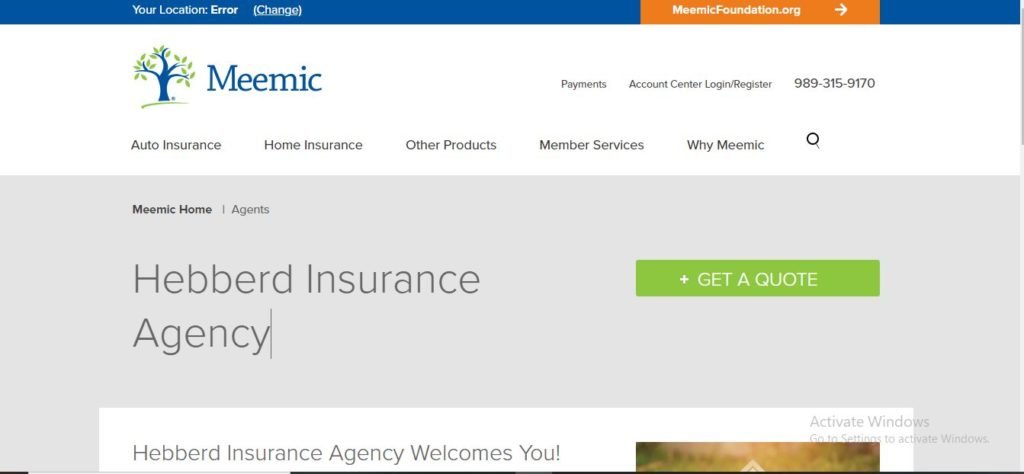 It stands at the third position of car insurance in Michigan with good coverage rate for driver with bad credit. It might not be that much low, but it could be a third option for its rate being lower than the state rate. It is also favorable for drivers after accident, with a huge difference of almost 25% decrease compare to the statewide average rate. So is the case for drivers with DUI. These are quite enough facts which could enable you make a reasonable choice for the car insurance which correspond to your need while taking into consideration your shopping trends.
Source: https://www.meemic.com/insurance-agency/michigan/bad-axe/hebberd-agency/
4.Travelers
The presence of Travelers car insurance in Michigan in this list is supported by its overall known customized policy which could be an advantage for customer looking for way to keep the shopping habits on track providing important savings. Travelers average annual rate is nearly $1,500 showing a difference of almost $600 with that of the statewide, an advantage to be ceased. It is also advantageous for youth adult drivers as its rate is also very less compare to statewide estimate average rate for the same. Additional benefits are the roadside assistance, new car replacement, gap coverage, and important discounts package for individual owning hybrid or electric vehicle.
Source: https://agent.travelers.com/mi
5.Geico
Very representative, due to its reasonable rate and good scoring, Geico Car insurance in Michigan once again justifies this by high score attributed by J.D. Power. It is also testified by its average annual full premium which is convenient and quite affordable compared to that of other competitive insurance group. It is also appearing at the third position with an affordable average annual rate for drivers with speeding ticket. Hence is a choice which could make an important difference. It might not be a company with customized options but its overall policy does satisfy more than one, so it is clearly justifiable to have it amongst the most recommended car insurance in Michigan.
Source: https://www.geico.com/information/states/mi/?gclid=EAIaIQobChMImu7vhKeR-QIVM4xoCR3u5gvfEAAYAiAAEgJ2n_D_BwE
Read Also: 06 most affordable Car Insurance in Wyoming, Best Auto Insurance in Colorado 2022, Cheapest Car Insurance in Alaska 2022