Although a Volkswagen Beetle is quite simple in numerous aspects, buying a Bug to add more class to your car collection can be tricky. As the models continue to age, choosing the best type of Beetle that comes within your budget, is becoming difficult by the year.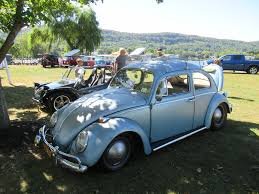 Here are some important tips to consider when buying a vintage or modern VW Beetle.
1. Decide the Type of Beetle you want to Buy
Beetles are available in all types of variations. Whether you want to buy an original Beetle or a modified model, the choices are endless. Some car enthusiasts opt for an original ride to get that nostalgic feeling whereas others choose a Baja Bug for memorable road adventures. You can also get your hands on a dune Buggy or a hot rod weekend warrior Bug. As soon as you decide the style of Beetle you want, the next step is to look for reliable sellers who offer just the type of vehicle you need.
Typically, buying a nicely done Beetle can save you thousands of dollars in customization or repair work. You just have to afford the initial purchase price.
2. Choose Between an Early or Late Style VW Bug
It's easy to see why people love the lines and look of early VW Type 1 cars. The Oval Window and Split Window Beetles, which Volkswagen manufactured until 1957 are now prized collector cars. No wonder the price tags of these vintage cars is increasing by the year. The beautiful and classy cars are perfect for collectors who want maximum value from a restoration. The only thing you show know is that some parts of these models can be fairly expensive to purchase in case you need to replace broken or missing components.
The 'Bing Window' Beetles are famous for their classic look. There's just one downside of these early models. Finding parts of cars up to 1965 can be cumbersome and there is not much aftermarket support for the original engines. Nonetheless, early beetle chassis parts are perfect for off roaders because their king and link pin front ends can withstand plenty of abuse. All models from 1966 through 1968 underwent continual changes because of new technology and government standards. That's why drag racers love the swing axle transmissions featured in the Beetle models, manufactured until 1968.
3. Check the Beetle for Rust
Almost all vintage cars are prone to rusting and Volkswagen Beetles are no exception. Hence, it is important that you must check the floor pans for rust. In addition to that, inspect the several factory drain holes for water that get plugged over time and examine the battery tray on the passenger side rear of the car.
4. Check The Bug's Engine       
Oil leaks can be a common problem with rebuilt VW Beetle engines. While a leak from a sump plate or a valve cover is an easy fix, repairing a leak from a type 1 engine oil cooler may need removal of the engine and other parts. You can get an idea of the engine's longevity during the test drive.
5. Check The Bug's Drivetrain and Transmission
You can do so by checking all the gears under low and high loads, during a test drive. Check if it grinds between shifts or pops out of gears. Many of these issues can be due to misalignment but can also be because of poor transmission. The late and early VW Beetles feature varying transaxle setups.
Examine the axle tubes and the rear drums for any signs of leakage. Although, repairing these parts is not easy, the job can be dirty. You will need an impact wrench to replace rear axle seals. All Beetles after the year 1969 and all Super Beetles featured independent rear suspension transaxles. Make sure you check the car for clicking at the CV joints during a test drive. Don't forget to check the clutch to see if it needs any adjustment. Remember that a transmission rebuild is the biggest cost and most parts need more labor than cash to repair.
How Much Should you Invest in a VW Beetle?
Just like any other vintage car, the price tag of VW Beetle has significantly increased. However, most of these are still cheap by classic car standards. If you are willing to spend a decent amount of money, the early split window Beetles, manufactured from 1946 to 1953 are highly collectable. A running Split Window VW Beetle can go beyond $50K. Other collectable items include the Oval Window Bugs, manufactured from 1954 to 1957. A running model can cost you from $20k to $30k, according to the condition and year of manufacturing. The most affordable VW Beetles are the Early big window VW bugs, manufactured from 1958 to 1966, which are the most affordable of early style Beetles. Dependnig on the condition and quality of the car, the model can cost from $5k to $14k.
Final Thoughts
People love the simplicity of the VW Beetles. If you are planning to buy an original or rebuilt Volkswagen Beetle, follow our guide to get the best model according to your budget and preferences.