There are important number of car insurance companies in Abu Dhabi with interesting offers. Each of these companies invest on different aspects to cover the customer needs and demands. They offered from basis third party coverage to important strategized profit for all level car owners. Among these companies you can have the giant AXA, Oman Insurance, and the RSA insurance which were discussed earlier through the Dubai Branches. Other famous groups include the Alliance car insurance, Noor Takaful, Abu Dhabi National Insurance Company, many more.
1.Abu Dhabi National car Insurance Company
Founded in 1972 as a part of Abu Dhabi council investment with about 24% shareholder, the Abu Dhabi National insurance is ranked as the third largest insurer in UAE. Abu Dhabi National car insurance company is well known for its flexibility in coverage. But what amazed most of the customers is the quick and easy claims procedure which support their needs as compare to other car insurance companies in Abu Dhabi. The Abu Dhabi car insurance proposed mainly two plans namely Gold policy which is a motor insurance with different options and additional benefits for more reassurance and exceptionally a third party liability which cover up to AED 3,500,00. The second plan is the car insurance standard policy which gave customer basic level of coverage with third party liability property damaged as well costly AED 2,000,000. In order to support all along, this company has a strong garage network which can take care of the customer's repair with a possibility of car replacement during the period of reparation.
Head Office
Building No.403
P.O Box 839
Tel: 800 8040
Source: https://adnic.ae/motor
2.Alliance Insurance
The Alliance Insurance is classified among the first car insurance created in UAE . It was set in 1975 with a commitment of providing various support to clients and build an excellent reputation in this particular domain. So far, it has gain a reputable rank among car Insurance companies in Abu Dhabi. Moreover, It has done its best, looking at its important growth and extension all over UAE, taking into consideration the competitive aspect of the market. It is one of the best actually, with good experience in the domain, astonished professionalism and flexible dealing strategies; well, the network is quite extensive. Alliance insurance is considered to be one of the cheapest among car insurance companies in Abu Dhabi, it offers corporate plans which is situation dependent. For example, it responds to all client issues regarding of the claims and the basic third party liabilities are included as well.
Office Location
1st Floor, Zakher Time Residence Building,
Fatima Bint Mubarak Street, Abu Dhabi
Tel: +971 2 639 1531
Source: https://www.alliance-uae.com/products/general-insurance/motor-insurance/
3.ADAMJEE Insurance
Adamjee insurance is also a largest insurance organization existing since September 1960 in Pakistan. The Abu Dhabi branch is considered to be an important advantage for this innovative company. It supports UAE city capital resident through an interesting motor insurance portfolio which ranges from theft coverage, accidental damaged coverage to the well-known third party liability. In 2008, this company has launched an online policy to stand the market competition and this policy was extended with different auto manufacturers such as Suzuki and actually, is Toyota and Honda brand retailers. The advantage of such policy is the positive implication which is nowadays observed in the amazing growth of the Adamjee insurance group as it is being classified among the best in nowadays market.
Office Location
12th Floor, Unit No.1204, Abdulla Bin
Darwish Building, Al Ain, Abu Dhabi
Tel: 02 671 7300 / 02 6717167
Source : https://adamjeeinsurance.ae/car-insurance/
4.Noor Takaful Insurance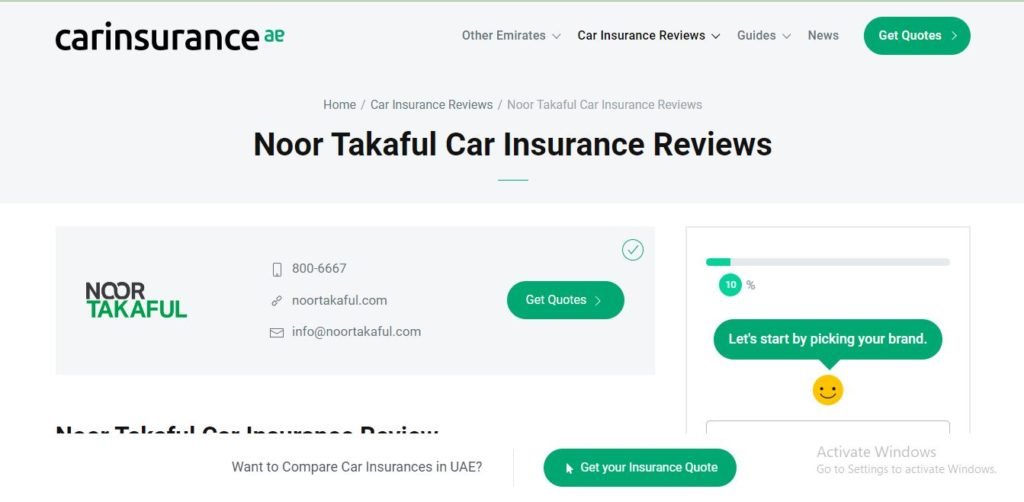 Noor Takaful insurance was established in the early 2009 with an aim of providing important range of Islamic Insurance with a particularity of legal separation of services. One of its important product being the car insurance aspect. It has so far gone through relevant milestones with amazing improvement and achievements as well. Thus, the Noor Takaful's car insurance companies in Abu Dhabi offers wide range of plans including the 24/7 roadside assistance, amazing claim recovery process, no claim discount, agency repair in case of accident. It also has a comprehensive car insurance plan with medical emergency expenditure coverage, new car replacement with the condition that the owner should be eligible to the contract criteria. In addition, the customer vehicle is covered for a road trip to sultanate of Oman; a privilege which is rarely seen in other car insurance companies in Abu Dhabi.
Office Location
1st Floor, Abdullah Hamad Lowaie Al Alameri Building,
Fallah street, Abu Dhabi, UAE
Tel: 800 (825 2385) / +971 50 651 8475
Source: https://carinsurance.ae/reviews/noor-takaful/
5.Emirates Insurance in Abu Dhabi
Emirates Insurance started operating in July 1982 with only branche in Abu Dhabi. More than twenty years later, several branches have been set all over UAE. Emirates insurance as other car insurance companies in Abu Dhabi offers predominantly three types of packages such as the comprehensive policy which covers the damaged the client vehicle, third-party car and liability to passengers and repairs. The other policy is third party liability insurance for car owner which offers coverage against damage to the third party vehicles as well as injury. It also offers liability towards property damage and to passengers. The third policy concerns the Motor fleet and is useful for businesses because of providing important coverage for multiple vehicles under a unique term, it is quiet flexible, as there is a possibility of adding or removing a vehicle on the client request during the period of insurance validity.
Office Location
Emirates Insurance Company Building, Al Zahiya (Tourist Club Area)
P.O Box 3856, Abu Dhabi
Tel : +971 2 6440 400
Source: https://www.eminsco.com/individual/motor-insurance/
Read Also : Top 5 Best car insurance companies in Dubai 2022