This emirate region is an important zone for car auction. As such car insurance in Sharjah have valuable importance which assuring the customer services after sales. Some of the car insurance group present in Dubai and Abu Dhabi do have branches in Sharjah. Among these you can find the OMAN Insurance company or Abu Dhabi National Insurance. Let's have a look at those which are specifically found in Sharjah
1.Sharjah Insurance company
Sharjah insurance is the first in the list as it is the most predominant car insurance in Sharjah. It was founded in 1970, under the decree of His Highness the Ruler of Sharjah and is registered with the UAE Federal ministry of Economy. As such, its main branch is located at Al Mamzar, it has appreciable offers to satisfied the customer in many aspects. The Sharjah insurance company provide mainly two policies for car insurance including the comprehensive car Insurance which covers damaged or loss to personal vehicles and spare parts due to accident, Theft or fire. The second policy which is the Third Party Liability insurance covers the Insured's Legal liability for compensation towards third parties. It is quite satisfactory as its main mission remains the offer of quality product and services to customers.
Office Location
01, 02 floors, Al Raha Tower,
Corniche Al Mamzar, Al Khan, Sharjah
Tel: +971 6 5195666
Source: https://www.shjins.com/
2.AL BUHAIRA National Insurance Company
Office Location
Al Buhaira Tower, Khalid Lagoon,
Buhaira Corniche, Sharjah, UAE
P.O Box 6000
Tel: 06 517 4444
Source: https://www.albuhaira.com/personal/motor-insurance
3.Al AIN AHLIA Insurance Company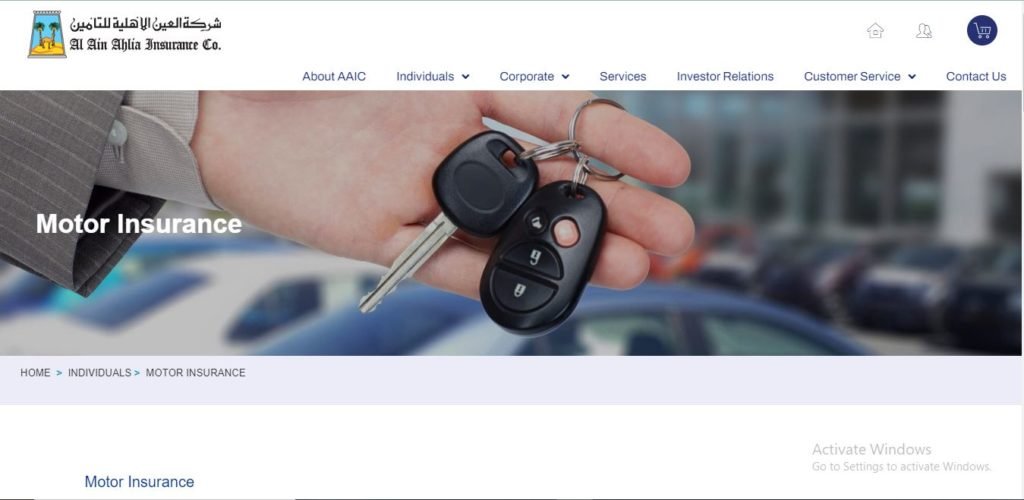 The Al AIN AHLIA insurance was established in 1975, and has a headquarter in Abu Dhabi. Hence, Sharjah has a branch which provides the same trusted services as in any other part of the UAE where you can have further branches. Al AIN AHLIA car insurance in Sharjah offers a range of services to auto owners ranging from basis claims to important coverages. The various coverages include; the comprehensive policy which provides covers against vehicle damage and third party car or property, it also covers injury to third parties and liability to passengers; other aspects are the off road assistance car replacement. The second policy is the Third Party liability insurance policy which offers compensation for death or any injury caused to any person including the vehicle passengers. It also covers damages to items and property to third party. The last policy is the Orange Card which is a sort of insurance scheme usually required by vehicles travelling from one Arab country to another. This card offers covers third party liability as per the laws of the final host country of the car in question.
Office Address
Al Reem Plaza 2nd Floor, Suite 204,
Opposite Buheira Corniche Road Sharjah
Tel : +971 6 575 3440
Source: https://alaininsurance.com/en-us/home/motor-insurance/
4.AL DHAFRA insurance
Founded in 1979 and registered under the provisions of the UAE insurance Laws of 2007, it main office is in Abu Dhabi. It offers various services and the online claim is available as well. Al Dafra car insurance in Sharjah, offers two main policies which are the comprehensive Motor policy covering the damage to own vehicle and legal liability to Third party in respect to bodily injury or death and damage to property. The other policy is the Third party liability which represents the legal liability to third party covering damage to property, death or bodily injury, personal accident and just like the former policy can be extended to geographical territories beyond the UAE.
Office Address
348 Al Wahda Street- Industrial Area
Industrial Area 4-Sharjah
Tel: 06 599 0333
Source: https://www.aldhafrainsurance.ae/home_page_service_bo/motor-insurance/
Read Also : 05 best Car insurance companies in Abu Dhabi, 5 Best car insurance companies in Fujairah,